Like most 20-somethings, Eric Braun is a social media user; unlike most folks his age he's used this platform to dramatically grow his business in an industry that was foreign to him not long ago. This year Braun is set to more than double his already impressive mortgage production with only four years in the industry under his belt.
Whiteboard CRM President Kevin Ducey sat down with Eric to discuss how this LO – who is new to the business – ramped up production so quickly. First, let's get to know Eric a little better.
At 20, like many others his age, Eric didn't have a solid plan for his future. He was living day-to-day and hoping his life would fall into place. In fact, he faced addiction battles, a dead-end job, and a lack of direction, all of which could have hurled him down a dangerous path. Then one day, just like that, a chance meeting changed his life.
A foot in the door
"He seemed successful, meaning, to me a 20-year-old, [who was] naive, he had the new Audi. He always wore a suit and tie, and to me, that meant you're rich," Eric laughingly explained as he talked about the man who introduced him to the mortgage industry.
Braun had never known anyone with much money so the man made an immediate impression. Not only that, but he offered Eric a job to be his driver.
At the time, Eric was working 10 hours a week making bagels—the idea of being a driver for a "rich guy" was a dream job. For the next three weeks, every time he saw his potential boss, the man asked Eric when he was going to come drive for him. Every time he responded with "whenever you want me to start."
After three weeks of dangling the drive-for-me carrot, the man invited him to his office to talk about a "real job." Excited, Eric jumped in blindly. The employment package he signed stipulated how much money he would be making, but not what he would be doing. Within two weeks, Eric was on the phone making sales calls for a loan officer.
It was his first real job; night and day from where he had been. He was wearing a coat and tie each day and working 40 hours a week—but he didn't love the job initially. In fact, it took more than a year before he decided to make it a career.
"Slowly but surely I fell in love. It wasn't quick," Eric said. "About a year, year and a half in, I decided: let me take this seriously, let me get my license, let me try it out."
Building his brand with social media
Eric went all-in with mortgage sales—now it was time to start producing. Easier said than done when you're new. Fortunately, an interest in personal development led to his first "aha moment."
It was something he learned from best-selling author and real estate mogul, Grant Cardone. That is the number one problem facing every business is obscurity. In other words, it doesn't matter how good you are, if they don't know who you are, they can't use you.
For the first two years, Eric worked hard on building his personal brand and getting his name out there. The most logical way to do this was with social media because it was a channel he was familiar with.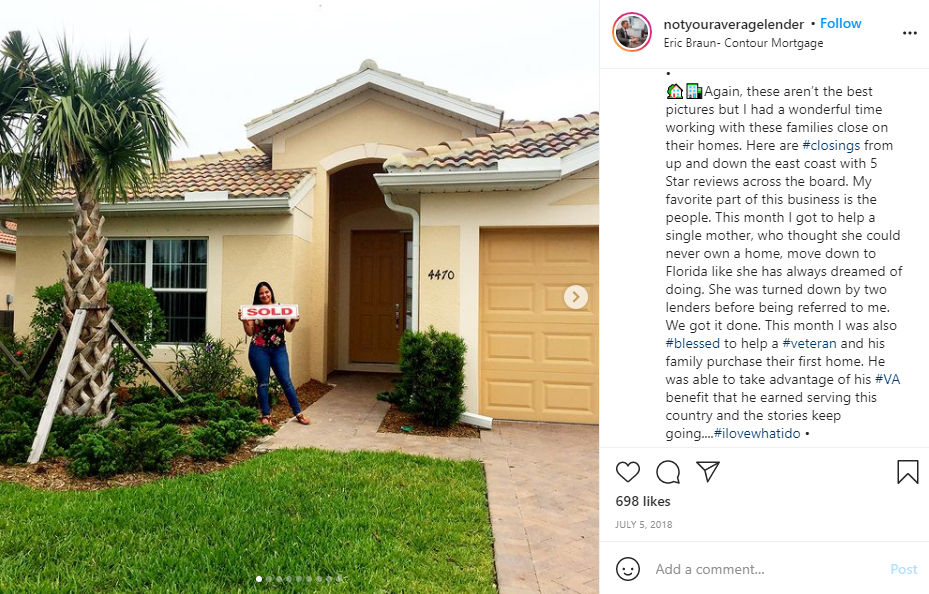 In his early Instagram posts, he shared both stories and reviews from his clients and dabbled with videos, though he felt like that part was initially tough.
"Three years ago I could barely speak in front of a camera. I didn't know what to talk about. And I just kept doing it," Eric says.
He continued filming, building his brand one post, follower, and view at a time. In addition to documenting his journey, he created a recurring event to further boost his brand. He hosts Brew-Re—a play on the words brewery and real estate—which is a fun get-together at various Long Island breweries with free beer and drawings.
"It was another way of bringing people together where I controlled the environment, where the light wasn't on me but it was on me at the same time. The main purpose of the event wasn't to promote myself, but that was the ulterior motive," Eric admits.
Part of what made the event successful was creating a fear of missing out or FOMO. To achieve this, Eric would initially drop 50 tickets saying the event was limited. As he started getting messages from people saying they couldn't get tickets, he took their messages and posted them online to create excitement saying "Sold Out!"
Then he would drop another 50 tickets. He eventually got it down to a science, knowing which days to release more tickets to continue building that FOMO.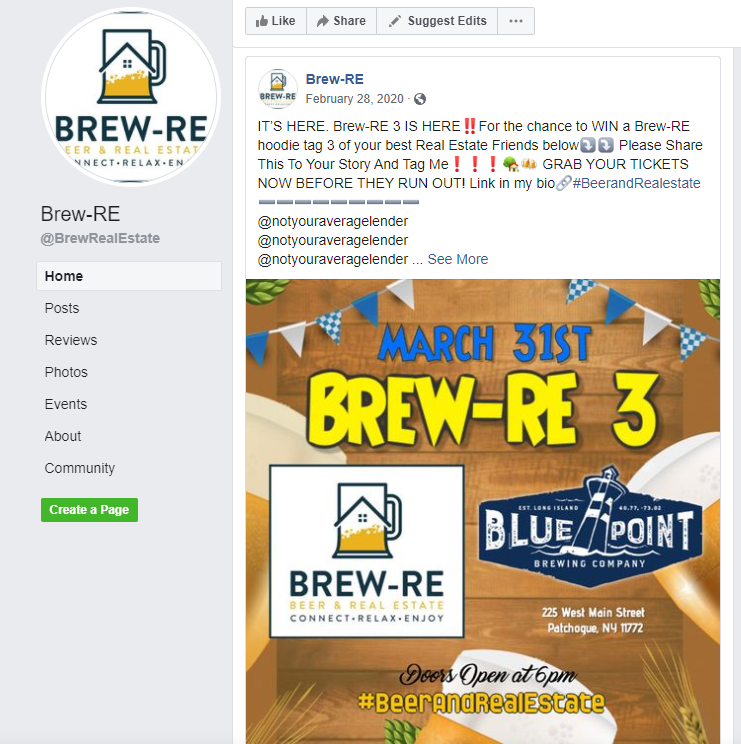 "It's been a really cool journey to see this event come to life. It's now a staple in my market. Everybody is like 'when's Brew-Re 4?'' Eric said.
Output! Output! Output!
By his third year, Eric had doubled his production from $15M to $38M and is projected to double it again in 2021. Although it happened fast, Eric's success in the industry didn't happen overnight and it didn't happen because he was already a social media pro. He worked hard at it.
"Was it easy? No. It may have come more natural to me because I am young. I was already on Instagram. I was already on Facebook. I was already using social media. That's it though. That's the only advantage I had versus somebody who doesn't use social media," Eric says.
As proof, you can see the quality of his posts improve dramatically during the last three years. They are now more polished and while he's still telling his story, he's also sharing success tip videos such as "Your brand is what people say about you when you're not in the room."
"For me personally, I would just recommend, whatever you're doing, whatever strategy, you start building content now and documenting the journey because: Output! Output! Output!. You're gonna get loans in whether it takes a year or two years, it's gonna be well worth your time." Eric said.
At Whiteboard, we love to chat with leaders in the industry and share those conversations with you. Check out some of our other Top Producer Spotlights on our blog!