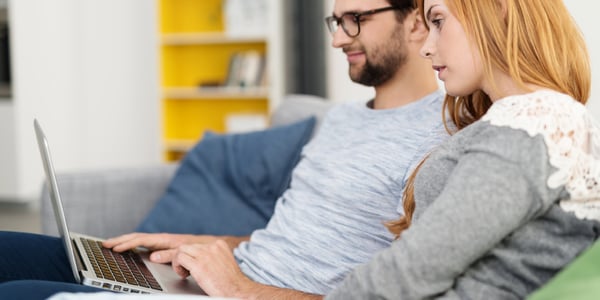 Are you using the best mortgage CRM software for your business? Hint: If your customers aren't happy, your CRM is letting you down.
When you have the right mortgage CRM software in place, it supports positive long-term client and partner relationships. It ensures every customer service interaction is smooth and efficient. It handles all your contact management seamlessly, setting you up for deal after deal.
Let's look at how finding the right mortgage CRM software can keep your company more productive and keep your borrowers much happier.
The Truth About Reviews and Referrals
Most loan officers' lead flow is based on reviews and referrals. Mortgage customers care about what others say about your business, so they pay close attention to online reviews and personal recommendations. Your CRM should be able to handle this kind of customer relationship and lead management.
Of course, referrals are a double-edged sword. When someone sees tons of perfect 5-star reviews online, they tend to feel a bit skeptical. After all, who's 100% perfect?
Here's the truth about reviews and referrals:
---

The more real they are, the more they help your business. You don't have to have all 5-star reviews to build more referrals.

---
Believe it or not, even a bad review can be a good thing, if it comes across as authentic and you respond to it quickly and professionally with the help of your CRM. Most people will just assume 1 or 2 cranky reviewers might be a little crazy, and pay more attention to how professional you act. That's good for business.
The Benefits of Happier Borrowers
Fully 90% of consumers read online reviews before contacting a business and 84% trust an anonymous reviewer just as much as someone they know. These stats show the power of opinions to impact your business.
Is your CRM built specifically for the mortgage industry? Can it handle client and partner feedback, online reputation management, and customer preferences that affect the success of your mortgage business?
When your borrowers are happier, they're more inclined to post positive reviews online and make recommendations to their friends. This creates a cascading effect of more referrals, more deals, and more long-term loyalty to your business.
3 Ways Your CRM Could Make Your Clients Happier
The best mortgage CRM software allows your loan officers to be proactive about - and productive with - every customer interaction. Here are 3 important ways your CRM should be supporting your team and customers.
Customized interactions.
The CRM should offer templates, scripts, and automated marketing materials that are customized with each client's information. Everything should address them by name. When your loan officers need detailed information about an individual client, it should be right at their fingertips so they can speak with people in a friendly and personal way.
Real-time information.
All information that the CRM provides should ever be out of date. It should be accurate down to the moment. Customers should feel that you are always providing real-time information that addresses their most urgent needs.
Extending the experience.
The CRM should support post-close efforts that extend the customer experience into the future: follow-up offers, email marketing, a referral program, loyalty discounts. This is a critical part of building a large following of happy customers.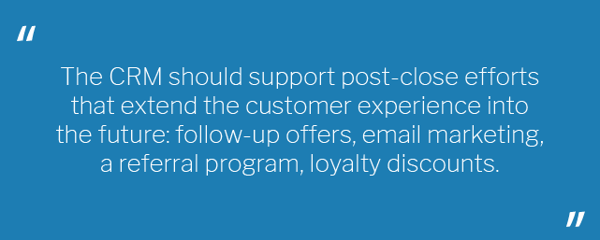 Automatic, Valuable Touchpoints
Do you celebrate your customers' birthdays and anniversaries? What about milestones in home ownership, like being 5 years away from their last mortgage payment?
These kinds of touchpoints are meaningful to your customers. They show you care and make people feel like more than just dollar signs to you.
Set up your CRM to automatically generate customized emails and SMS messages for a variety of special events in the lives of your customers. A simple message like, "Congratulations on the 1-year anniversary of buying your home!" puts a smile on their face.
Proper Expectations
A good CRM also helps manage your customers' expectations during the loan process. This means it provides constant updates that guide things along.
When your client requests information, they receive an email about next steps. When they share a document, they receive a confirmation message. When you have everything you need from them, they receive an update that tells them they're all set.
From the beginning of the transaction, set a high bar for customer service and maintain that focus. Your CRM will help you build customer trust.
The Value of Consistency
Finally, take a moment to think about past loans. What made your last deal so successful? Don't you wish you could always do it that way?
A great CRM allows you to have more consistency in the services you deliver by providing a detailed playbook to follow. There's no ambiguity. Every interaction is smooth. Customers stay happy and look forward to doing more deals with you.
Connect with Whiteboard now to learn how your CRM could transform your business. We can't wait to show you how an innovative mortgage CRM could make a world of difference to your customers.