We know, a person's credit score is one of the most important factors in the approval or denial of their mortgage loan. When one of your potential client's credit history is blocking their dreams of owning a new home, how do you help them?
You may be tempted to give them advice based on what you know about the credit repair industry, but that could be a big mistake. You're (more than likely) not an expert in the field of credit repair, and even with the best intentions, simple mistakes can cause big disasters for your client's credit report.
That's why experts like Janna Fox and her colleagues at ReScore exist. Fox—a mother of five and former credit repair company customer herself—and her co-founders realized that when you can't find a company you trust there's only one thing you can do.
"There wasn't a lot of other really great credit repair companies out there, so if you can't find one, the next best thing is to open one up yourself," Fox said. "ReScore as a company is me and two other ladies and all three of us own it. We wanted to be a good source for people and honestly help them not just pray on hopes and dreams."
Credit repair and the mortgage industry
With Fox as the CEO, ReScore quickly found a niche in the real estate and mortgage industry due to her former experience in the field. They partner with people in the industry all across the United States.
As a company, credit education is a major priority for everyone at ReScore. They've seen the lack of understanding and work every day to debunk myths and misconceptions to help people understand what actions they can take to truly help your credit score. It's easy to make poor suggestions and mistakes, even when you work with credit reports regularly if you're not an expert.
For example, Fox once got a call from a loan officer in a complete panic after a client acted on their well-intentioned advice and it turned out to be disastrous.
The LO explained to her that they found a three-year-old collection on a client's credit report, which their client was unaware of and—according to the client—shouldn't have ever been their responsibility. At that point, the loan officer suggested it would be best for the client to pay off the collection in order for the mortgage loan to slide through the underwriting process.
Turns out, the advice of the LO caused the client's credit score to drop 110 points. Once that happened the consumer was no longer eligible for their mortgage loan and the LO was desperate for help from Fox.
Did you know when you pay off a collection it isn't removed from your credit report? According to Fox, paying an old collection is one of the worst things you can do when you're trying to boost your credit score quickly. When a consumer takes this action the payment actually updates the last date of the activity and is calculated as a new collection on the report.
If only the LO had referred this client to an expert like Fox and her team, those points wouldn't have been lost. In fact, a credit coach from ReSource could have fought the collection and probably had it removed completely.
Hire the right expert and company
So, now you're convinced it's best to refer any could-be clients who need advice to a credit repair specialist, right? With a changing economy and shifting guidelines, consumers need higher credit scores now than they have in the recent past to qualify for mortgage loans.
Since every single point counts how should you make sure you're referring people to the right experts and companies? It's always a good idea to check the reputation of a credit repair company online and with any other mortgage professionals who might have a relationship with them. Additionally, you can find out a lot about a company by determining how they get paid.
Unlike many competitors who charge clients a monthly fee to "see if they can get anything removed," ReScore only charges for the negative claims they get removed from their clients' credit report. For example, if the credit coach goes after 25 negative items and only 15 are ultimately removed, the customer is only charged for those 15.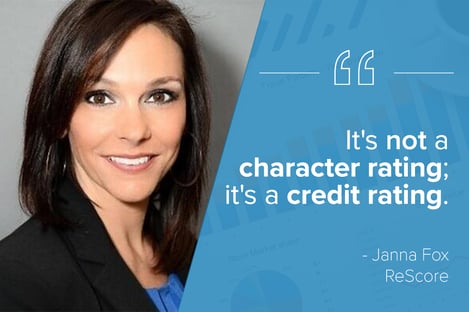 Fox and her cofounders purposefully modeled their company's payment system this way so referral partners have peace-of-mind when they suggest using ReScore. Since the credit coaches only get paid when negative claims are removed, no one is dragging the process out over the course of several months to continue getting paid.
"There are times that we don't even have to remove something negative per se there are things you can do to raise those credit scores and it's important to know what those are," Fox said. "I'm not going to rip people off, I have to raise children and feel good about myself."
Need to get in touch with ReScore?
In the mortgage industry, you know relationships are invaluable. Imagine you're the LO who refers a consumer to a credit repair company like ReScore. In no time, they're able to work with you to get the home of their dreams and you were the person who didn't give up on them. Not only do you get goodwill and praise from that person, but their referrals too.
You can direct any of your possible clients who need their services to visit ReScore online at rescoreyourlife.com or you can reach out to Fox directly by text by using the phone number she provides in the video above.
At Whiteboard we're proud to have connections and friends at companies like ReScore. Together, you and ReScore can change lives and enable people to secure the American Dream—a home of their own. Nothing changes generational wealth like owning a home and we appreciate the reminder from Fox that you always have to remember the human behind the FICO score.