Google "mortgage CRM software" and you'll be bombarded with hundreds of results. Scrolling through them will surely make your eyes glaze over. So how do know which one you should choose?
Don't worry, we're here to help! We did all the research on mortgage-specific software and narrowed it down to six of the very best solutions.
It's critical to select a CRM option that was designed with your business in mind. The perfect CRM solution supports a mortgage company down to the tiniest detail because it was built specifically for the industry.
Essential CRM Features
Let's take a look at the features mortgage CRM software includes, if it is the best-of-the-best. Here are the absolute deal-breakers. Without these features, a CRM is useless in the mortgage business.
An intuitive, format that's useful to busy mortgage professionals

Out-of-the-box implementation at a low cost

Handles complex contact information management

Relationship management functions for excellent client and partner customer service

Easy real-time task flow that clearly shows your loan pipeline

Lead capturing from Zillow, Trulia, Realtor.com, and other crucial sources

Modern automated marketing and analytics functions, especially in terms of tracking your lead conversion rate

Customizable for your specific company

Scalable and focused on growth

Centralized, cloud-based design

Multi-platform support for texting, mobile, email marketing, and team-based discussion
---

We really can't over-emphasize the importance of the features on the list above. If just one of these is missing, it will roadblock your mortgage company's path to success.

---
For example, imagine a CRM that can handle contact management, but can't capture and track leads from Zillow. That's just a big, empty database that's aching for fresh leads from one of the world's biggest websites. You'll have to pay someone to do it all by hand.
Now let's look at 6 of the world's best mortgage CRM solutions. Keep the above list of essential features in mind as you read through them.
6 Best Mortgage CRM Solutions
Here's the thing. We understand that we're not necessarily the best fit for every organization. (We can't be everything for everybody— and trust us, we've tried.) Here are the features that make us great, and, just in case you decide that we're not for you, here are some of the features you can find in other mortgage CRM solutions.
Whiteboard is a young company that made a big splash in the mortgage CRM scene when it became a HousingWire Tech100 Winner. It uses a workflow style called The Mortgage Playbook that's easy and intuitive.
Whiteboard is among the Floify top CRM software solutions due to its integration with Fannie Mae, LendingQB, Zillow, LendingTree, Realtor.com, and other big names in the business. This makes it a lead generation powerhouse for any mortgage company.
Whiteboard's best value is the Annual Plan at $949 per user, plus a $299 setup fee. This includes a dedicated Success Coach, data migration from your current system and five hours of Professional Services. If you'd like to pay monthly, the price is $99 per user per month, plus a $399 setup fee, placing it on par with other competitively-priced CRMs. Connect with Whiteboard now to view its innovative mortgage CRM features and/or request a demo.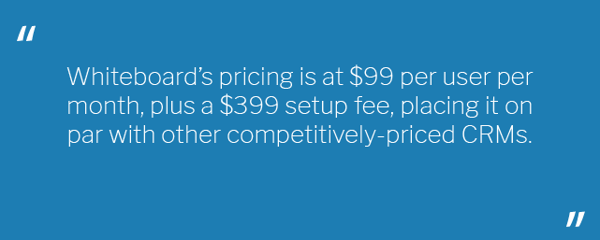 BN Touch costs $99 per user per month, with price breaks at $79 (2 to 5 users) and $69 (6 to 50 users) depending on your total number of users.
On the plus side, BN Touch is definitely a mortgage-specific CRM that comes with pre-loaded and pre-written content to support a team of busy mortgage professionals. It offers a fairly large library of marketing assets, plus team collaboration and a mobile app.
Jungo offers what they call a "mortgage ecosystem" that integrates with Salesforce. Pricing is annual at $999 per user per year. One of Jungo's strengths is its mortgage-specific co-marketing materials for MLS and realtors.
We do have new customers who switch from Jungo tell us it has a long learning curve. According to other blog posts, the average user will probably find it cumbersome and complicated to set-up. It can be a great fit, especially if you have prior experience with Salesforce.
The industry veteran, Mortgage IQ made a name for itself in the mortgage industry in the early 90s, its CRM handles marketing automation easily and streamlines lead management. It goes beyond a basic mortgage CRM into the realms of business planning and strategizing. Questions to consider, with an extreme focus on customization, it could make it less helpful as an out-of-the-box solution for the individual LO and a small team.
It has expensive custom price points, too. If you need quick, easily implemented CRM software, Mortgage IQ might not be the best choice.
Working in the mortgage industry, you've probably heard of Top of Mind's SureFire because it's been around for nearly two decades. Its main features - like automated campaign management - check the boxes, but the feedback we get that you'll want to explore is, SureFire struggles to offer the functionality a modern mortgage professional needs.

Don't expect to see straight into your pipeline, for use in competitive selling. Surefire does offer LOS and POS integrations across the board for its users along with mobile alerts, a mobile app, and interactive tools.

SureFire pricing is at $150 per month per user, with a price break at 5 users, plus a one-time setup fee. That seems geared toward enterprise users and could be cost prohibitive for a small operation.
Mortgage powerhouse Ellie Mae acquired Velocify in 2017. It's a large and intelligent CRM that includes all the basic features you'd expect to see, wrapped up in a slick interface.
If your company has many levels and needs a lot of corporate approvals, Velocify is a good choice. Every message that goes out to clients can be easily reviewed by corporate before triggering. Maybe because of the enterprise focus, Velocify does not publish its prices anywhere online, as far as we can tell.
Is Whiteboard for you?
As we said earlier in this blog post, we know that Whiteboard CRM isn't the right choice for everyone. However, if you think we might be the right fit for you don't wait, book some time to see this mortgage software today!