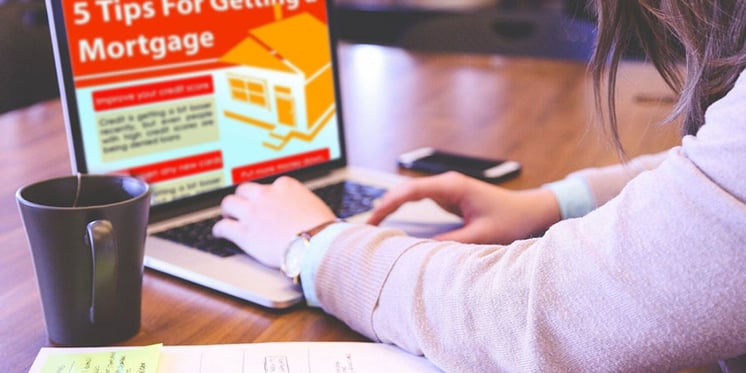 One challenging aspect of the mortgage industry for loan officers like you is generating enough leads to keep your pipeline full. However, with a little strategy behind your mortgage marketing, you can generate enough potential customers to flip this challenge around into one of your strengths.
Keep reading to discover lead generating marketing ideas to help keep your pipeline full.
Share Valuable Content
Establish trust by showcasing your industry know-how wherever you have an online presence. This proves to the public you are, in fact, a mortgage loan expert. Not only will this begin to drive traffic to your website, but you will begin to create trust with first-time site visitors. That trust is necessary as you try to entice visitors to give you permission to market to them.
Written content is a great way to get information out to your visitors—through a blog or a frequently-asked-question page. Also, don't shy away from giving visitors information in quick and easy to digestible formats, such as videos, infographics, and checklists.
Making some of your higher-value features "gated content" is one way to turn anonymous visitors into known leads. Gated content is information that can only be accessed once certain information about the user is given in exchange for permission to market to them—often in the form of emails and/or SMS text messages).
Marketers call this a lead generating offer or lead magnet. Basic lead generating offers can take the form of an ebook or a how-to guide. More advanced offers included online assessment tools and calculators.
What is the key to a successful lead generating offer? Content that your prospect perceives to be valuable at the point when they find themselves interacting with it. Then, ask for the bare minimum of their information in exchange for access to the content.
Once a potential partner redeems your lead generation offer and has given you permission to email or text them, it's time to start the conversation. In fact, Whiteboard CRM automates that process for you.
Make sure it's easy and convenient for your prospects to hire you. Some tips include:
Make the button or form on your site the first thing the user notices.
Use active verbs and language centered around the user's needs.
Ditch the regular "contact form," and replace it with a "Get Started" button.
Like other lead-generating offers, don't ask for too much information. Get only the information necessary to make the first contact, such as name, email, and phone number.
Start Conversations
Make sure you're thinking beyond your website. According to Hootsuite, 97 percent of digital consumers have used social media in the past month. That means you can start your own conversations or join in on existing online discussions about what you do and why you're the loan officer to contact. To engage potential leads on social media, try:
Sharing live videos that show who you are and how you can help a prospective home buyer.
Offering advice on loan programs, refinancing or other areas you specialize in and include links to your content.
Posting pictures of your day-to-day activities and involvement with your partners
Creating content made exclusively for social media helps you build a network of followers and generates more leads.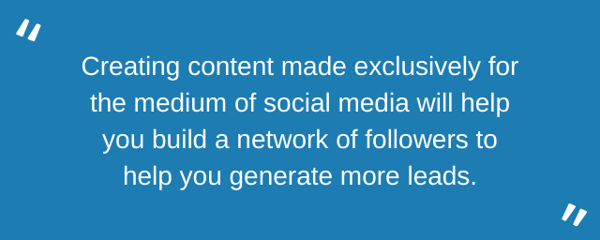 Build Your In-Person Network
We live in a technological world, but there's no replacement for forming networks based on in-person interactions. Engaging in your community helps create relationships with local real estate agents, mortgage originators, builders, and other professionals who have connections with those in need of your services. To build these relationships and widen your network:
Find a cause or charity that speaks to you and volunteer.
Serve on committees or local organizations.
Set up a booth at local trade shows and events where you meet people face-to-face.
Continually engage with your personal network by sharing useful information.
Don't Underestimate the Power of Mail
According to Small Biz Genius, direct mail marketing continues to be a powerful weapon in your marketing arsenal. In fact, 73 percent of American consumers say they prefer to get direct mail because they can look at it and consider it on their own time schedule and not the company's.
How should you use this tactic? Send physical mail telling your community about your services. This way they can physically hold on to the information until they need the services of a mortgage broker. Your flyers or mailers should explain what you do and provide your contact information for when they need it.
Form Partnerships
Purchasing leads from lead companies is one way to acquire leads, however, you can't be sure of the quality. Forming partnerships with other professionals is an alternative tactic that drives quality leads.
A loan officer isn't the only professional who has connections to those actively shopping for a mortgage, home equity loan, or are looking to refinance. Forming alliances with other like-minded individuals in the homebuying industry is a good way to gain direct access to exclusive leads.
Real estate agents and builders give you direct access to people in the beginning stages of purchasing a home.
When you build these relationships and establish yourself as dependable and knowledgeable, builders and agents will refer clients to you directly.
This is another place where you'll benefit from thinking outside the box and working to diversify your relationships. Think of people in professional roles who regularly come into contact with people who are in the market for your services, such as life insurance agents, financial planners, divorce attorneys, and estate planners. These relationships could put you into contact with new leads as they think about their financial future.
Mortgage lead generation is a challenge, but managing your leads and following up isn't hard with Whiteboard Mortgage CRM. From beginning to end, Whiteboard automates the process from fresh lead to committed customer.
Contact Whiteboard CRM today for a free demonstration so we can show you how we can help make all your lead generation efforts easier to manage.