According to Slick Text, 292 million people—that's 80% of the population—use text messages in North America alone and mobile usage has never been more popular worldwide. The best Customer Relationship Management (CRM) software allows you to instantly engage with both potential and existing customers through text messaging. SMS messages are a powerful tool for your automated marketing plan.
How do top producing loan officers use SMS features in a CRM such as Whiteboard? Below are a few ideas we've got to share with you.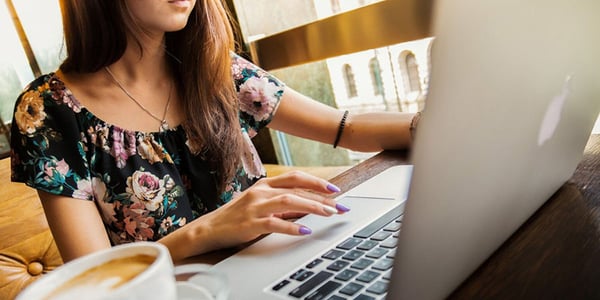 1. Get your message out quickly and efficiently.
Time management is of vital importance when you're growing your business. Calls, email, blog posts, and newsletters, while important ways to engage, are time consuming.
However, when you have a CRM that automatically sends SMS messages to your target audiences, you can send pre-prepared and tailored messages to your leads, as they arrive. You can also send messages about loan updates, missing Needs List items, and events. Messages can even be scheduled to release at a future date and time to keep you from being chained to your desk.
2. Stay on the same page with your team.
Whether you are keeping in touch with other loan officers on your team or with referral partners, a CRM with text messaging features makes it easier to stay in touch and keep your messages uniform.
SMS features in many CRMs allow you to create custom templates to make sure information looks the same from all of your team members so that all clients get a unified message no matter who they're speaking to. SMS features also give real-time updates to your team and notify you immediately when someone needs to get a hold of you.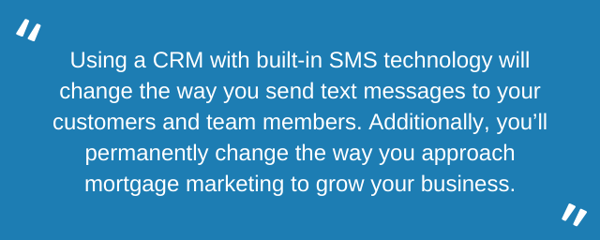 3. Collect leads and engage them quickly.
A quick blurb on any promotional flyer or advertisement containing your CRM text message number instantly provides you with contact information to generate leads to begin moving them through the sales process efficiently. With SMS features, your mortgage CRM software can then automatically send them automatic updates and replies or a link to more in-depth information like your website or newsletter.
4. Reliably and securely deliver your message with SMS
Clear and timely communication with all clients is vital no matter what services you are providing. SMS allows you to be in touch regularly in a fast and reliable way. It's the perfect tool to get timely information to target customers such as updates and notifications.
An email could be languishing in a customer's inbox for hours or days while SMS instantly tells them what you need them to hear.
5. Don't get lost among the spam.
The number of spam messages - or unsolicited messages - that come through SMS is dramatically lower than other methods of mass communication like email. Because of this, customers are more likely to trust and open your SMS message than they are an email. According to Mobile Marketing Watch, SMS messages have a staggering 98% open rate, which means your target audience is more likely to engage with your text message than any other form of communication.
Using a CRM with built-in SMS technology will change the way you send text messages to your customers and team members. Additionally, you'll permanently change the way you approach mortgage marketing to grow your business.
For a free demonstration of how Whiteboard CRM can change your business for the better and make your job easier with just the click of a button, contact us today to set up an appointment with one of our experts.