As a professional in the mortgage industry there's little doubt that you've heard about leadPops and how they help you capture leads from the traffic already flowing to your website.
The more leads you are able to capture, the more you'll be able to convert into customers and the more your business will grow. But what do you do if that's not happening?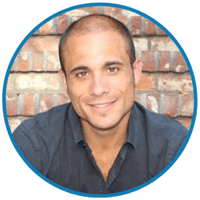 At Whiteboard, we know that your CRM — like your business — works best when partnered with the movers and shakers in the mortgage industry. That's why we foster relationships with other mortgage tools.
To show you what we mean, Whiteboard President Kevin Ducey sat down with Andrew Pawlak, the CEO of leadPops and author of the book The Mortgage Marketing Manifesto for a conversation about mortgage marketing.
What do people need to know about mortgage marketing?
Since most mortgage professionals are already creating content to market their business, Andrew believes there is one area where most companies should focus their marketing. He suggests starting with small tweaks to the marketing materials you're already creating, instead of doing a 180 degree turn to go a different direction.
In fact, he suggests specifically that you don't look for the next exciting thing. From his point of view, it's important to optimize your current and past content instead of jumping on the next trend you see.
We don't know about you, but that idea makes sense to us. When you put time and effort into something, it's important to make sure you've worked through the entire process, keeping in mind the actions you want your audience to take.
When you create an incredible piece of content — whether a video, a blog post, a podcast, or a newsletter — you have to set that content free into the wild, but for it to be effective you must optimize it for the result you're expecting to achieve.
Where should you start to optimize your mortgage marketing?
Did you know your calls-to-action (also known as CTAs) are one of the most important aspects of your content? Without a CTA your audience is left unsure of what they should do once they finish your blog posts or videos.
That's why Andrew and leadPops start with optimizing content when they begin a marketing strategy.
For instance, imagine you created a fascinating blog post everyone should read. It is full of helpful information and should bring you new leads. Once your readers get to the bottom, is there a call to action telling them what to do next?
If not, creating one is the best place to start, according to Andrew. Since you know the end result you want the content to achieve, you'll know exactly what action you want your audience to take. Your CTA should tell your audience exactly what the action is.
It is important to remember to fit the CTA to the the proper stage of communication. For example, if your video is introduces your business, and is likely the first time your audience is meeting your company — more than likely it isn't appropriate for you to ask for them to fill out a loan application as the CTA. Start with a smaller step like "learn more about our loan process."
Andrew suggests first checking out what big companies are doing if you need inspiration and then recreating what you see them doing.
He also mentions waiting to ask for personal information like phone and social security numbers right off the bat, stick to the easy stuff. Learn more about them and let them learn about you.
What is Conversion Rate Optimization?
According to Moz, conversion rate optimization is the systematic process of increasing the percentage of website visitors who take a desired action — be that filling out a form, becoming customers, or otherwise.
Andrew says at leadPops they look at it a little differently and it's basically a "super-fancy way of saying they just make it work better so that you're not just focused on driving traffic."
That's why when leadPops works with their clients' strategies, they optimize the content to first convert a click into a lead.
"They don't stop to really think — well, where am I driving these people? — because that's just as important. Driving a bunch of traffic and clicks without converting those clicks into leads doesn't do you a whole lot of good."
No matter what, Andrew focuses on optimization first. Before they run ads — whether on Facebook or Google — leadPops makes sure each piece of content will lead people through the proper process.
What's the biggest misconception people have about mortgage marketing?
The biggest misconception Andrew sees in all types of marketing — especially related to tech — is that it the tools are never a magic bullet.
"You're not going to sign up and have leads fill up your CRM," Andrew says. "Whiteboard is an awesome CRM for us to plug into, but you're not going to get anything out of the solution if you're not promoting it or driving any traffic to it."
Andrew goes on discussing how many customers he sees make the mistake of "putting these tools on the shelf" and not using the time and resources to create success. At leadPops, they do their best to start all of their customers out on the right foot with onboarding and coaching.
If you're interested in finding out more about what's happening with Andrew and his team you can visit their site at leadpops.com.
How can I get started improving my mortgage marketing?
If you're not yet using a CRM for mortgage business, learn more about how you can accelerate the implementation and time to value of your CRM on our blog.
Whether you're using Whiteboard, another CRM, or a completely different system, you can create more successful marketing campaigns with help from the tips in our latest ebook The Mortgage Marketing Success Guide for Non-Marketers, so download it today!