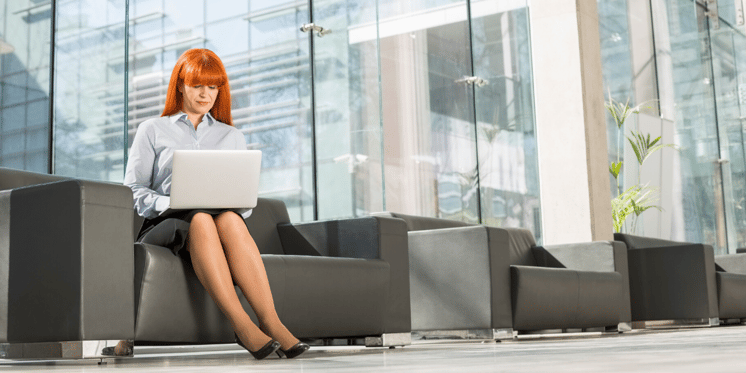 Finding the right mortgage marketing software is about more than choosing a software interface to work with during your workday. For mortgage professionals, choosing the right software is your opportunity to simplify your work processes, manage your clients' mortgage loan process, and increase your company's revenue.
With this guide, we'll help you understand the basics of mortgage software so that you make the best choice.
Understand your options.
Professionals in the mortgage industry have options to pick from when searching for the right marketing software. When making your decision, be sure to ask these questions before signing a contract with any software company:
Do they offer cloud-based software?
Does their software work well for you AND your referral partners?
What kind of customer relationship management (CRM) work does the software do?
Will this software offer great contact management?
How effective is the lead conversion process?
What kind of mobile apps are offered?
What kind of customer support system is in place while I learn to use the software?
For most challenges you face in your mortgage business, there is probably a software-based solution. It is worth your time to assume that someone else has had the same problem as you and has developed software to fix it.
This is one of the main reasons we recommend finding a software solution that is intimately familiar with the ins and outs of the mortgage industry.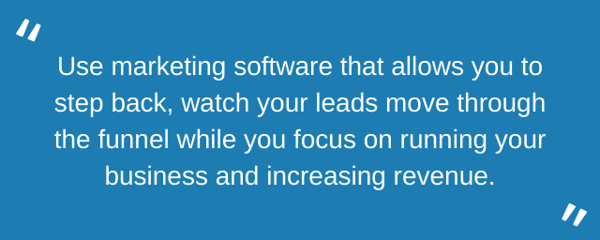 Choose software that supports your goals.
There are countless marketing strategies out there, most of which can be tailored to work in the real estate industry. Whether you are looking at the tried-and-true word of mouth marketing strategies or ever-changing content marketing ideas, choose a software platform that supports your goals and your ideas.
Some successful marketing strategies that we've seen mortgage professionals use include:
Content Marketing
When a company provides great content on their website and social media platforms, it creates a relationship between the company and the customer or client. This content should be meaningful and valuable, not just filler or fluff.
SEO Management
Search Engine Optimization is all about driving traffic to your website through organic, non-paid methods. By using the right keywords and providing real, valuable content that matches Google's algorithms, you can ensure that all the right potential clients find your company when they are looking for the services you offer.
Social Media
While there is a lot of advice out there about the ways that social media can be used to promote a business, we have found a few things to be especially important. They are:
Diversify your social media accounts so that you are posting the right content to the right platforms. In other words, if your younger leads come from Instagram, post content that appeals to younger buyers on Instagram. Because Facebook's users skew older, consider that demographic when you place Facebook ads.
The more engaging your content is, the better it will perform. Use pictures, galleries, and videos that fans and followers want to respond to and share.
Social media should always point back to the landing pages on your website that invite the prospect to get started. The call-to-action (or CTA) should use language that is active and focused on the needs of the prospect. Some examples include "get a free quote," and "get started today."
When evaluating software, consider which programs will allow you to integrate these marketing material strategies into your daily operations.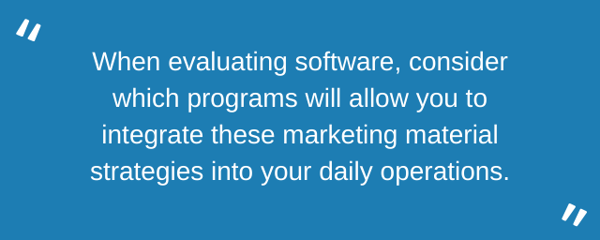 Automated marketing can make your life easier.
As you know, the loan origination process takes time, so find software that helps you build relationships with clients. We believe that a client who feels connected to their mortgage broker is more likely to demonstrate sustained involvement in the process from start to finish.
However, client and partner relationships are difficult to sustain. Constantly having to nudge your leads to take the next step can be exhausting and overwhelming, especially if you have a lot of leads.
Automation is the solution to your day-to-day lead management. Loan officers benefit from automating certain aspects of their marketing strategy. When you can successfully manage LOS integration and marketing into an automated process it is an important tool.
Automated Mortgage CRM Software
One thing you can easily automate with software is your CRM system.
CRM stands for "Customer Relationship Management," and it is the process by which companies build relationships and nurture their leads. It can be used by employees in countless departments, but when it comes to marketing, the goal is to ensure that leads feel respected, engaged, and connected.
Mortgage-focused CRM converts sales leads to closed contracts. It even continues to work post-close, creating opportunities for people who have completed the loan process to review your services and spread the word to their friends and family.
Great automated CRM software for the mortgage industry will:
Immediately respond to any contact that is initiated by a potential client
Provide great call scripts and resources for real-time conversations with clients
Walk clients through the loan origination process so that they don't feel overwhelmed or forgotten
Create attainable CTAs for each client, depending on their specific needs at that moment
Prompt clients to provide feedback, reviews, and referrals for their friends and family
Learn more about marketing software by talking with us.
Our expertise is working with professionals in the mortgage industry to help them nurture their leads through the sales funnel by using successful marketing strategies and tools. If you have questions about how to improve your company's marketing effectiveness, we can answer them!
Don't spend all your time trying to manage an unmanageable system of following up on leads. Instead, use a marketing software that allows you to step back, watch your leads move through the funnel while you focus on running your business and increasing revenue.