OCTOBER NEWS FOR YOU!
Keep up with what's happening at Whiteboard by checking out the October wrap-up. We've got something new for you whether you're looking for a tech tip, producer spotlight, or update on statistics! Check it out.
---
TECH TIP
We are continually working to bring you hints and tips which are easy to put into practice. Our mission is to help you stay organized and on-track.
Learn how to use the Whiteboard app to ensure there is NO downtime with new clients when you are away from the office.
---
PRODUCER SPOTLIGHT
Check out our latest Producer Spotlight! We love chatting with our Whiteboard CRM users and sharing their successes with you.
Ryan Speltz is a man of many talents. He is not only a top-notch mortgage professional but also an entrepreneur, a teammate, a teacher, and an author. For the last few years, he has been living in St. Petersburg, Florida – across the bridge from Tampa – and building his business.
---
STATISTICS TO CELEBRATE!
We know that all our Whiteboard users are incredible and we have the numbers to prove it.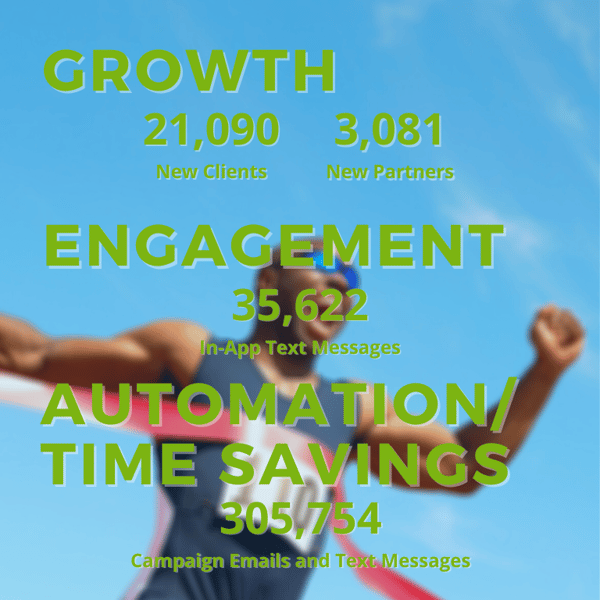 Check out these stats from September. In September, you and your fellow Whiteboard users funded over half a billion and helped 2,000+ families secure new homes. But, our favorite stat is that you saved more than 50,000 hours by utilizing Whiteboard and could spend that time growing your business!
---
UPCOMING EVENTS
Have fun, Network with Peers, and Hear Advanced Tips and Strategies from Your Fellow Loan Officers & Branch Managers

Fill your Prospect Pipeline

Build Your Referral Network

Close & Convert More High-Value Clients

Systemize and Scale Your Business

Come say Hi - we will be there!
---

OCTOBER COACHING GROUP
Congrats to the customers who invested time and energy working with a Success Coach dialing in Whiteboard specifically for their business!
Chani Walker | Drummond Community Bank
Jeremy Delamarter | Caliber Home Loans
Jorge Urbeita | SonAriz Financial
Brian Thomas | Nexa Mortgage
Stephanie Drewry | C&T Mortgage
Mark Rocha | Nexa Mortgage
Reginald Ross | Compass Lending Group
Nick Muccigrosso & Tony Colmenares | Equity Prime Mortgage
Jimmy Pittman | Nexa Mortgage
Tiffany Catillo | Green Family Mortgage
Kameron Lavinder & Melissa Smith | Northwest Funding
Shawn Alajayan | Groves Capitol
Jessica Garcia & Tony Garcia | Northpoint Home Bank
Dayna Cousino | Group One Mortgage
Not every new customer takes advantage of coaching—but we highly recommend it! Do you need to complete your coaching? Or feel like you need a new campaign? Let's get you scheduled with a Success Coach: email us at support@whiteboardcrm.com or give us a call at 866-333-6311 ext. 2.
---
GIVE US FEEDBACK!
We'd love to know what's on your mind. Want to share your feedback or ask us a question? Click the button and send us your message!