Top Producer Stephanie Johnston shares how replicating the perfect loan and never giving up on a lead through automation has this superstar primed to break the $100M mark in only her 7th year of production.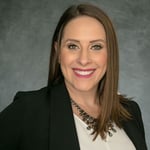 What is a perfect mortgage loan? Stephanie Johnston and her team say they have it figured out. Want proof? This year their Dallas-based branch placed 250 families in homes with over $70M funded and are poised to hit $100M.
Part of this success can be attributed to their processes and to the technology they use—but this industry is still all about people. Running both of these are the team and in particular, Johnston, who didn't have a typical start to her mortgage career.
Forged in a Call Center
Someone always has a story about how tough things were back in their day. Johnston's day wasn't that long ago, but she toiled in a role and at a time that would test anyone's mettle.
It was 2006, right before the housing bubble burst and the economy crashed—and Johnston found herself in a bank call center. Here she would spend the next seven years of her career, a tenure alone that is something to behold considering the high rate of turnover in call centers.
Anyone who comes out of that environment would either swear off mortgages forever or emerge Nietzschean—stronger, smarter, and perhaps even finding meaning in the suffering. At the very least, Johnston was relieved to have "lived" through the experience.
In 2013, she resurfaced as an LO, jumping over to what she calls "the real world of mortgage" and never looked back. She found a new home in ServiceFirst Mortgage and has been there ever since.
The Perfect Mortgage Loan
Serving 250 customers in a year would be overwhelming for many small teams, but Johnston brings order to what could otherwise be chaos.
First, she and her team are very systematic with their process, starting with one question.
"If you could do a loan one time, what would that look like?"
From here, they unpack what this looks like, from getting the personal details to post-closing—and everything in between. Then they replicate this ideal scenario over and over again until it becomes their "perfect mortgage loan."
For the times when a loan or customer breaks the mold, she has a solution.
"I'm a very creative loan officer. If I can't do their loan no one else can," says Johnston.
She can "puzzle" loans together because they have a great product mix. And if they just can't make it happen, they will give them the educational tools so they can buy in the future.
Their CRM, Whiteboard Mortgage CRM, makes staying in touch systematic and easy no matter where their contacts are in the home buying journey. This is important because for every person ready to buy now, there are a few more waiting for the right moment.
Avoid the "Sticky Note Problem"
Here's a situation every salesperson has likely encountered in their careers: You jot down a contact's name and number on a sticky note. Call that person once or twice. Then...well... that's it. No more follow up.
"Do not do not do this!" Johnston says.
The problem is that people are at different times in the buying cycle. Some may be ready to roll now while others are looking one, three, or six-plus months into the future.
Here's some data that sheds more light on this: 63% of people that show interest in your company won't purchase for at least three months and another 20% will take more than 12 months to buy.
Be the Last Man Standing
Staying on the radar of her leads is simply a matter of being there when the competition has moved on, which has proven fruitful, especially for those months-in-the-future buyers.
"On our longer-term campaigns, most loan officers have given up," says Johnston. "So even if they've talked to five people upfront, we're usually the last man standing at the end."
For 2019, 10% of their buyers ($7M) are those that have been in their CRM for more than six months. To maintain these relationships, they use their CRM to send texts, videos, and emails with a focus on education.
"We try to think of every common question that a consumer has. Anything that comes up in the process," she says.
With an ultimate goal of $100M, Stephanie Johnston and her team have the tools in place to make this happen. Now it's only a matter of time.