SEPTEMBER NEWS FOR YOU!
Keep up with what's happening at Whiteboard by checking out the September wrap-up. We've got everything from a Whiteboard customer exclusive video from Keeping Current Matters to testimonials from other users like you.
---
CUSTOMER EXCLUSIVE
Encouragement for 2021! You'll want to take 30 minutes and be the first to watch the Fall Industry Update from Dave Childers of Keeping Current Matters.
We are continually working to bring you exclusive information and insight from experts in the mortgage industry in this monthly newsletter. Want to see something (or someone) specific? Send us feedback at the link below!
---
STATISTICS TO CELEBRATE!
We know that all our Whiteboard users are incredible and we have the numbers to prove it. Check out these stats from August!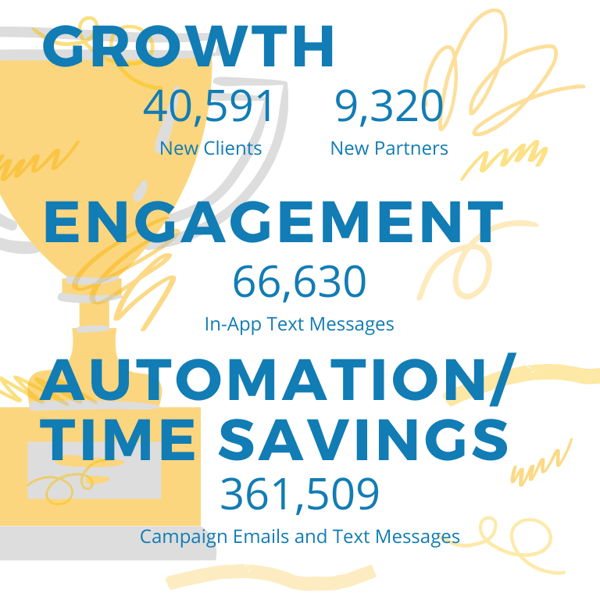 In August, you and your fellow Whiteboard users helped 2,000+ families secure new homes and almost doubled the number of new clients and partners you added to the system. We're impressed! But, our favorite stat is that you saved more than 60,000 hours by utilizing Whiteboard and could spend that time growing your business!
---
IN CASE YOU MISSED IT ON SOCIAL ...
David Koch is an independent broker with Nexa Mortgage and shares his philosophy on lead generation as "being a farmer, not a hunter." But that's not the only nugget of insight he shares, so check out our Facebook page to see this interview and others like it with Whiteboard President Kevin Ducey.
---

SEPTEMBER COACHING GROUP
Congrats to the customers who invested time and energy working with a Success Coach dialing in Whiteboard specifically for their business!
Ryan Cotter | Movement Mortgage
Marvin Mullins | Able Financial
Lisa West | Loan Depot
Irene Bezenyan |A&D Mortgage
Eric Johnson | American Mortgage Affiliates Company
Barb Multari | Pathway Mortgage
Arin Gregoryona | ALG Loans
Jerry Dawa | World Wide Credit Corp
Andrea Crockwell | Royalty Elite
Michelle Rodriguez | Paradise Mortgage Brokerage
Austin Yagle | American Mortgage Network
Brian Mineau | PRMI
Anthony Dang | Dang Mortgage
Kyler Nichols | Caliber Home Loans
Tiffany Castillo | Green Family Mortgage
Not every new customer takes advantage of coaching—but we highly recommend it! Do you need to complete your coaching? Or feel like you need a new campaign? Let's get you scheduled with a Success Coach: email us at support@whiteboardcrm.com or give us a call at 866-333-6311 ext. 2.
---
CUSTOMER TESTIMONIALS
April Kelly

| Sequoia Mortgage LLC

"Whiteboard is perfect for our smaller platform and grows as we do. It keeps us in front of our clients (past, present and potential) and is a great way for us to stay organized and on top of our pipeline. Amazing support and training from the get-go."

Jeremy Drobeck

| Amerifirst Home Mortgage

"Having a CRM is like having another employee. Worth every penny. I have used different mortgage CRM programs over the years. Whiteboard is the best I have come across. For sure worth the money. I have my whole team using it and never had any problems with new users learning the platform."
---
GIVE US FEEDBACK!
We'd love to know what's on your mind. Want to share your feedback or ask us a question? Click the button and send us your message!