What Is Mortgage CRM Software?
Customer relationship management or client relationship management (CRM) software is a vital tool for any customer-facing business. It's a tech-savvy way to manage your interactions with potential and existing customers and track data about them. It's also a way to get the big picture of your customer base from all the little details you know about them and ultimately offer better customer service and grow your business.
In this guide, we'll look at the specific tasks mortgage CRM software can do for loan officers like you who are looking to get more leads and close more loans.
Proper Contact Management Software Is Key
Solid leads are the lifeblood of the mortgage loan officer. Leads become prospects, and prospects become closed deals. Managing the lifecycle of these leads is crucial. But how are you keeping track of this vital information? Jotting notes in a notebook? Maybe an intricate series of sticky notes? A bloated spreadsheet? Luckily, there is software out there to help you with these tasks.
There are many options available to help with basic workflow tasks. At the very least you should use software that keeps track of contacts. Users should be able to quickly access details such as name, address, and phone number. Ideally, users should be able to see a history of when a prospect was contacted and the results of that contact.
---

These are the very basic functions of contact management software. But the right software for you should be so much more!

---
Mortgage CRM software is designed specifically for the industry. Not only does it track contacts, it tracks the process of a mortgage application, the documentation involved, and the loan approval. For the point-of-sale, customers can be provided a web-based portal to apply for loans and upload accompanying documentation, eSign disclosures, and monitor the status of their loan.
Throughout the loan process, communications between borrowers and loan officers are easily managed with automated and customized emails. Mobile applications make the entire process easily managed on mobile devices for customers on the go.
A Collaborative Cloud-Based Space for Loan Officers
Mortgage CRM software provides the transparency necessary to manage customer relationships easily and efficiently. Whether you are an independent loan officer or managing a team of loan officers, mortgage CRM software provides a centralized area for tracking the qualification process, following up with leads, and reporting on analytics and results.
Industry-specific software solutions are exploding. For example, software exists for real estate agents that allow for generating dedicated web pages for properties, in many cases pulling directly from the MLS. Agents can manage Facebook lead generation, SMS/Text lead capturing, virtual tours, and Craigslist listings all within a centralized software system.
Mortgage CRM software is designed specifically for the mortgage lending industry. Individual loan officers, entire teams, and offices can benefit from the easy-to-use web-based software, increasing efficiency and reducing the cost of the loan application and approval process. Team-based texting improves communication between borrowers and other team members and stakeholders. You can follow up on leads in minutes, not hours, and drive engagement with customers in real time.
Call prompts with scripts allow you to confidently make proactive calls to customers with key contact information and scripts right on your screen. You can view critical daily tasks, milestones, and referral sources in a convenient dashboard snapshot.
Ready-made templates let you communicate the right message to customers at the right time, while the customizable nature of the templates ensure the ability to still have a personal touch. Forms and form groups help you capture and collect new client leads and client data with pre-loaded or customized forms. Robust reporting features let you view lead conversion results, top referral sources, and much more in easy-to-read graphs and charts.
Easy and Automated Mortgage Lead Follow-up
Mortgage CRM software can easily integrate with any existing Loan Origination Software (LOS) you may already have. Messages are automatically sent to team members in real time when milestones are reached. For example, when a customer submits a loan application, an email is sent to the customer containing valuable information on next steps. Client expectations are automatically managed with customizable templates.
One to One Texting
Specialized features with mortgage CRM software allow more direct communications with customers, such as one to one texting. In today's world, customers expect to stay informed, even on the go. Having the ability to manage text messages through the app allows you to track communications with customers and make these communications viewable and searchable to all users of the software.
Automated Email Marketing
Communicating with customers is easy with mortgage CRM software. With an email marketing campaign you can quickly send a message out to all your customers to keep them informed of changes in the industry, such as mortgage rates, or changes within your specific company.
If you already have LOS in place, don't make the mistake of thinking that's all you need. It can do all of these tasks for you. CRM software has its own important place in the loan process. It helps you generate leads and take care of your customers so you can close on loans. Without those customers, you wouldn't have need of your loan origination software!
The Differences between Loan Origination Software and a Mortgage CRM
Many lenders make the mistake of using their loan origination software ("LOS") as their customer relationship management ("CRM") platform. And they're missing out on potentially valuable business opportunities as a result.
While LOS systems are an effective way to manage every stage of the loan process itself, they're not designed to nurture leads, coordinate team communication, or grow the business. They're created to expedite the processes related directly to loans, not accommodate (and improve) customer relations.
Mortgage CRM systems are indispensable because that's exactly what they're designed to do. They ensure that your relationship with your customer progresses seamlessly, without a break that could potentially cause the customer to lose interest in the process altogether. The two should work in tandem, not to the exclusion of one another.
Let's take a quick look at what each of these software packages do and what sets them apart.
What Is Loan Origination Software?
Very broadly, loan origination software automates all cycles of the lending process. It acts as a mortgage shop's 'back end,' and ultimately outputs a Fannie Mae 3.2 document, which is the standard final document for all loans. Working without loan origination software would make a complex task even more difficult, which is why many LOs find them to be a valuable part of their toolkit.
Credit Pull Functions
Hard credit pulls can affect a borrower's overall credit score even dropping it by a few points in some cases, so most LOS systems include automated prompts for authorization to pull credit and to request a borrower's eConsent form.
LOS Workflows and Tasks
LOS systems automate the huge number of loan application-related tasks, streamlining the process and making it more efficient.
Most LOS systems can:
Process pre-qualification and loan applications

Flag forms for missing information

Facilitate risk assessment and other underwriting functions

Ensure compliance with external and internal regulations
So what can't the LOS system do? Well, maintain your relationships with the very people who are most important to your business: your customers. If you hope to keep your business at the front of your customers' minds, CRM software is a must.
How Is CRM Software Different?
We already defined CRM software earlier, but let's look at it compared to loan origination software, in case you're more familiar with that. We'll also examine how the two systems can work together for you.
Mortgage CRM software is designed to manage customer relationships, not the loan process itself. In other words, it's not meant to replace the LOS system, but rather to work in tandem with it to improve the customers' overall experience.
Mortgage CRM packages help lenders manage the customer relationship from lead to prospect, and strengthen connections throughout the process, from pre-qualification to funding.
But how does it work? Well, CRM platforms can help grow a business with features like branded emails, marketing campaign automation, and even customer birthday reminders to add a personal touch to customer interactions. The CRM platform finesses the lender's relationship with the customer, making it feel less transactional and more personal.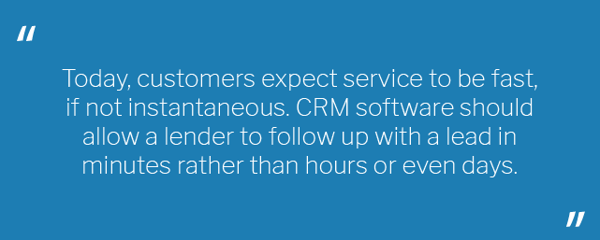 Mortgage Lead Management
Today, customers expect service to be fast, if not instantaneous. CRM software should allow a lender to follow up with a lead in minutes rather than hours or even days. It should include features like call prompts with scripts, a centralized contact information database, reporting center and access to standard and custom templates to capture new lead information.
Customer Relationship Management
As you probably know, consistent customer communication is key. Personal touches like handwritten notes and appreciation gifts can strengthen the relationship between lender and borrower throughout the loan process. A CRM platform gives you the ability to track customer preferences as well as information that could help you better develop a rapport with them— preferences about everything from sports teams to restaurants to their preferred method of communication.
An effective mortgage CRM solution should, for example, allow team members to set reminders with templates to keep a customer engaged with the right message at the right time.
Communicate Via Text and Email
Internal communication between team members is as vital as it is for customer-facing external conversations. So a good mortgage CRM platform should enable team members to connect via text and email to encourage frequent and efficient interactions.
How Loan Origination Software and Mortgage CRM Software Work Together
Mortgage CRM software is a powerful sales and marketing tool. It should integrate with the LOS so that information flows seamlessly between both systems. For example, a CRM software system might issue contact prompts when a new loan application is submitted in the LOS.
To compete in today's high-tech environment, mortgage CRM software must integrate with major LOS players like Calyx, Ellie Mae/Encompass, and BYTE. Lenders should also look for a CRM platform that interfaces with lead partners like Zillow, Lending Tree, and LeadPoint.
When your customer relationship management and loan origination software work in tandem, you have the perfect system for increasing leads, processing, and closing loans and communicating with customers efficiently and effectively.
Tracking Mortgage Leads: Spreadsheet vs. General CRM vs. Mortgage CRM
So loan origination software and customer relationship management software don't do the same things. You don't have need of LOS if you don't have an effective CRM system in place to get leads. But maybe you already knew that and have been using your own system to track the human side of the loan process already.
After all, mortgage leads are the bread and butter of the home loan industry, and most offices depend on some sort of system to track them. But are spreadsheets robust enough to manage this important function, or is CRM software a must? Is a mortgage CRM preferable to a general CRM?
Here's everything you need to know about the best way to track your mortgage leads.
From Mortgage Lead to Deal Closed
Every mortgage loan sales pipeline starts with a high-quality lead which is then converted to a prospect who prequalifies, submits an application and ultimately receives funding.
---

To state the obvious: no lead, no deal. Which is why it's so important to track those leads using current, reliable data.

---
Let's take a brief look at the basic components of the mortgage qualification process, and why it's important to track mortgage leads for each.
Mortgage Loan Qualification Process
Application
This is when mortgage brokers have a chance to shine. At this critical stage, it's vital to maintain consistent contact with a client throughout the process to demonstrate the lender's dedication and professionalism.
Documentation
As any borrower knows, the list of documents that must be submitted before a mortgage originator can make a credit assessment is a long one. So it's crucial at this stage to keep the client and referral partners informed through the various loan milestones.
Loan Approval
Some lenders make the mistake of thinking their customer relationship ends once the mortgage loan is closed and funded. Nothing could be further from the truth because a satisfied customer is the highest quality mortgage lead!
In fact, it's even more vital that a mortgage originator remains in contact with a customer at this stage to encourage future referrals and warm reception to refinancing marketing campaigns.
Following Up With Your Mortgage Leads
Since excellent CRM requires so many touch points, it can be daunting for team members to keep track of them all. But losing track of even one lead is a lost opportunity. So what's the optimal solution?
Tools To Manage Your Leads
Let's take a look at some of the more common tools lenders use to manage their mortgage leads.
Microsoft Excel, AirTable, Google Sheets, and Other Spreadsheets
This is the most basic method for tracking leads— and the one that leaves the most room for confusion and error.
Spreadsheet systems don't offer a streamlined way to automate prompts and reminders, reduce user error or save your team time spent manually emailing back and forth with clients.
And the fact you can't easily integrate a spreadsheet program with your LOS (and why would you want to go to the trouble?) translates to huge duplication of effort and reduced efficiency.
Loan Origination Software
We said it earlier that lots of lenders do use their LOS like a CRM platform. Should they?
In a word, no.
While LOS systems are excellent for managing the loan process itself— from document management to underwriting and compliance functions— they just aren't designed to replace a CRM platform. Rather, they serve as a mortgage lender's "back office" and don't generally focus on fostering and maintaining leads or growing the business.
General Purpose CRM Software
Certainly, a general purpose CRM system is preferable to LOS or spreadsheet programs for tracking mortgage leads. But are they ideal for mortgage lenders?
Most general-purpose CRM's offer standard contact management capabilities, mobile compatibility, analytics, and some customization options.
But they don't offer features specific to each step of the mortgage process, and they aren't tailored to fit mortgage terminology. And they don't generally integrate with LOS systems or mortgage-specific lead sources.
Specialized Mortgage CRM Software
This software offers all the standard features, but it is designed specifically with mortgage lenders in mind, complete with industry-specific templates, reporting capabilities and forms.
Specialized mortgage CRM software integrates in real time with your loan origination software, and automatically sends a message with each milestone, so your team can follow up with the right message at the right time.
For example, loan officers can automatically confirm receipt of an application and educate their client about next steps with ready-made templates. Borrowers receive specialized attention every step of the way, and your team's workflow remains efficient.
Perhaps one of the most attractive features of a specialized mortgage CRM software is that it integrates with high-quality lead generation companies to help grow your potential client base, managing every step of the mortgage process to increase your efficiency, reduce costs, and grow your business.
What to Look For in CRM Software for Mortgage Brokers
You may be the greatest mortgage professional the world has ever seen, but if you're managing customer relationships in a spreadsheet or using a general purpose customer relationship management platform as nothing more than a glorified contact management database, you're probably also the industry's best-kept secret. That might be great if you're trying to keep your secret sauce under wraps, but not exactly ideal when it comes to growing a business.
Luckily, these days there are lots of mortgage CRM software packages available on the market. But how do you know which one is right for you?
The Basics
Whether you're an individual loan officer or run an office full of team members, at a minimum your CRM software should:
Be intuitive yet powerful

Be easy to implement at a reasonable price

Keep prospects, customers, referral partners and other contacts organized in a central location

Be an out-of-the-box solution using modern automation and analytics to handle all your marketing and lead management functions

Be customizable to your business

Be cloud-based for easy access
Most importantly, the end goal of any CRM software should be to grow your business.
It may have all the bells and whistles, but if a mortgage-specific CRM system doesn't drastically increase your lead conversion rate, it's not worth using. Period.
The Details
So how can a CRM software accomplish the above? Here are a few more specific tasks to look for in a mortgage CRM system.
Loan Pipeline
A CRM software package should simplify and organize the process of viewing and tracking the status of applications. It should streamline workflows and ensure your team never misses a milestone.
Workflow and Critical Task Management
Features like a dropdown loan and lead pipelines are helpful, as is an intelligent sales workflow that presents high-impact tasks and reminders throughout the lifecycle of the loan.
If these critical tasks are delivered to an easy-to-read dashboard, even better. There's huge value in at-a-glance capability to view daily tasks, milestones and referral sources.
Look for software that offers customizable workflows and uses a calendar that integrates with tasks so nothing falls through the cracks and you never miss an update in the loan process pipeline.
Document Management
A CRM for mortgage brokers should facilitate the easy exchange of documents with standardized electronic forms and automated requests for supporting documentation like tax forms and pay stubs.
It goes without saying, this kind of data capture can be time and labor intensive, so it's imperative your CRM includes a document management solution so your LOS can focus on getting applications approved and following up with leads.
Look for software that not only includes pre-loaded forms for capturing new leads and collecting client data but also allows you to create custom forms with an intuitive form editor.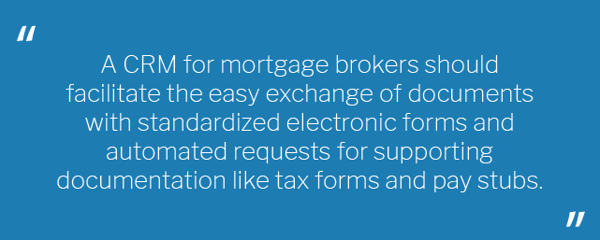 Relationships
At its core, the mortgage industry is a relationship industry. Without solid relationships, deals don't get done.
So aside from simplifying your processes, your CRM platform should help you deliver world-class customer service with a reputation for reliability, responsiveness, and trustworthiness.
And that's only possible if you develop great systems of communication.
Team-Based Texting and Mobile Apps
You want to remove all barriers to communication, both internally and externally, so a CRM that uses a mobile app is key. You want your team to be able to communicate with borrowers, real estate agents, referral partners, and each other easily and seamlessly, and in today's world, that means communicating on the go.
A team-based texting feature from within a mobile app is a brilliant feature that allows your team to have both in-app and ad-hoc conversations with contacts in real time within the platform.
Look for a team-based feature with pre-built texting campaigns that automatically notify everyone involved with the mortgage at each stage of the process. (Which can make all the difference with a first time home buyer!) With this capability, contacts won't have to stay in their email inboxes to hear from team members anymore.
And here's the really brilliant thing about this feature: it makes digging through non-compliant information scattered across multiple devices a thing of the past.
This team-based texting feature puts all your notes, conversations and data in one place, in a format that will delight your compliance department!
Emailing Your Mortgage Leads
Many CRM software packages offer email autoresponders that let your team send corporate-approved or custom designed email templates. Some also include post-close campaign templates as well, which can help prime the pump for refinance campaigns.
CRMs with segmented lists also allow your team to deliver personalized messages to the right people at the right time.
Relationship and Referral Tracking
Mortgage-specific CRMs help you track referral partner and relationships, and many offer callback calendar reminders and can prompt LOs when it's time to follow up with a contact.
This helps keep your team on track, and lines of communication stay open between all the stakeholders which are critical for creating and maintaining the strong relationships that drive sales.
Reporting and Analytics
But the real value lies in the ability of a CRM's relationship and referral tracking feature to provide in-depth evaluations and insightful analytics. It's one thing to keep good track of your relationships, but if your system isn't delivering illuminating analyses of those interactions, it's only doing half its job.
Ideally, reporting and data analytics are delivered via a centralized dashboard so all team members are looped in at every stage. Look for software that offers a robust reporting center that keeps your team informed of new mortgage apps, lead conversion results, top referral sources, and other deep sales pipeline analytics.
Marketing
Referral Partner Marketing Management Tools
Great marketing grows business. But how should a CRM help you execute effective marketing campaigns?
A CRM should provide your team members with a unified sales and marketing dashboard. When all internal stakeholders are on the same page, your marketing functions fire on all cylinders.
Also, look for a feature that allows you to create custom forms that can be used for lead capture. Most CRMs have a co-branded marketing feature with referral partners, and some even offer a huge library of available materials.
And it's not enough for the software to merely prompt your team to make calls or follow up, the best CRM packages include battle-tested scripts for your team to follow so your messaging is consistent, persuasive and professional.
Built-in campaigns for lead and partner management function more like workflows, with 1-to-1 emails and tasks. They act like project management for a lead and a loan.
The bottom line is that your CRM should centralize and automate your marketing and sales workflows without making clients and referral partners feel like just another number.
Lead Capture from Zillow, Realtor, and More
This is an obvious but incredibly important feature for your CRM to have. Look for software packages that work with industry giants like Zillow and Realtor.com.
You've got to have an effective way to feed the pipeline, and lead gen integrated CRM software can help you do just that.
Automated Lender Reminders for Important Events
With an automated loan process pipeline, your team will never miss a task or an update. They can focus their time on bringing in new prospects and taking care of existing customers, not on cobbling together individual reminder systems which inevitably fail.
Automated Campaigns for Each State of the Pipeline
Your mortgage-specific CRM should automate lead/borrower/partner communication to achieve optimal workflow efficiency.
Look for systems that include:
Ideally, your CRM should offer an out-of-the-box, ready-on-day-one content solution.
Without this type of feature, your loan officers have to spend time planning out campaigns, writing copy and designing entrance and exit workflows. It's a recipe for wildly uneven marketing campaigns and is sales -- killer.
Integrations
If a mortgage-specific CRM package doesn't offer robust industry integration capabilities, keep walking. Look for software that integrates with Fannie Mae, Lending QB, and other big-name mortgage lending partners.
Loan Origination Software
CRM software for loan officers should offer real-time LOS integration capabilities with database monitoring so your team receives opportunity notifications as critical events happen.
If a borrower's credit score presents a challenge, your CRM software should 'talk' to the LOS that so mortgage brokers can act quickly to refer them to a credit repair service partner.
Similarly, changing mortgage rates affect loan amounts and options so your team needs to be kept current as they follow up with leads and partners.
The Long-Short
If you're in the business of growing your business, you're going to need a mortgage-specific CRM. There are many software options on the market today, so be sure to choose one that doesn't just promise results, but actually delivers them.
How the Best Mortgage CRM Software Makes for Happier Borrowers
If you have already implemented CRM software, are you using the best mortgage CRM software for growing your business?
---

Hint: If your customers aren't happy, your CRM is letting you down.

---
When you have the right mortgage CRM software in place, it supports positive long-term client and partner relationships. It ensures every customer service interaction is smooth and efficient. It handles all your contact management seamlessly, setting you up for deal after deal.
Let's look at how finding the right mortgage CRM software can keep your company more productive and keep your borrowers much happier.
The Truth About Reviews and Referrals
Most loan officers' lead flow is based on reviews and referrals. Mortgage customers care about what others say about your business, so they pay close attention to online reviews and personal recommendations. Your CRM should be able to handle this kind of customer relationship and lead management.
Of course, referrals are a double-edged sword. When someone sees tons of perfect 5-star reviews online, they tend to feel a bit skeptical. After all, who's 100% perfect?
---

Here's the truth about reviews and referrals:

The more real they are, the more they help your business. You don't have to have all 5-star reviews to build more referrals.

---
Believe it or not, even a bad review can be a good thing, if it comes across as authentic and you respond to it quickly and professionally with the help of your CRM. Most people will just assume 1 or 2 cranky reviewers might be a little crazy and pay more attention to how professional you act. That's good for business.
The Benefits of Happier Borrowers
Fully 90% of consumers read online reviews before contacting a business and 84% trust an anonymous reviewer just as much as someone they know. These stats show the power of opinions to impact your business.
Is your CRM built specifically for the mortgage industry? Can it handle client and partner feedback, online reputation management, and customer preferences that affect the success of your mortgage business?
When your borrowers are happier, they're more inclined to post positive reviews online and make recommendations to their friends. This creates a cascading effect of more referrals, more deals, and more long-term loyalty to your business.
3 Ways Your CRM Could Make Your Clients Happier
The best mortgage CRM software allows your loan officers to be proactive about - and productive with - every customer interaction. Here are 3 important ways your CRM should be supporting your team and customers.
Customized Interactions
The CRM should offer templates, scripts, and automated marketing materials that are customized with each client's information. Everything should address them by name. When your loan officers need detailed information about an individual client, it should be right at their fingertips so they can speak with people in a friendly and personal way.
Real-time Information
All information that the CRM provides should ever be out of date. It should be accurate down to the moment. Customers should feel that you are always providing real-time information that addresses their most urgent needs.
Extending the Experience
The CRM should support post-close efforts that extend the customer experience into the future: follow-up offers, email marketing, a referral program, loyalty discounts. This is a critical part of building a large following of happy customers.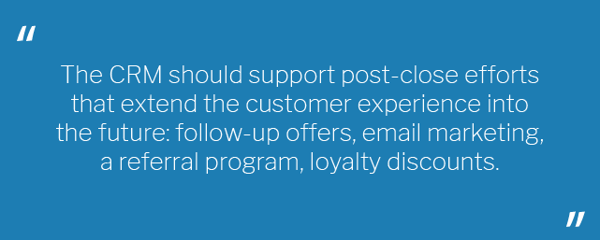 Automatic, Valuable Touchpoints
Do you celebrate your customers' birthdays and anniversaries? What about milestones in home ownership, like being 5 years away from their last mortgage payment?
These kinds of touchpoints are meaningful to your customers. They show you care and make people feel like more than just dollar signs to you.
Set up your CRM to automatically generate customized emails and SMS messages for a variety of special events in the lives of your customers. A simple message like, "Congratulations on the 1-year anniversary of buying your home!" puts a smile on their face.
Proper Expectations
A good CRM also helps manage your customers' expectations during the loan process. This means it provides constant updates that guide things along.
When your client requests information, they receive an email about next steps. When they share a document, they receive a confirmation message. When you have everything you need from them, they receive an update that tells them they're all set.
From the beginning of the transaction, set a high bar for customer service and maintain that focus. Your CRM will help you build customer trust.
The Value of Consistency
Finally, take a moment to think about past loans. What made your last deal so successful? Don't you wish you could always do it that way?
A great CRM allows you to have more consistency in the services you deliver by providing a detailed playbook to follow. There's no ambiguity. Every interaction is smooth. Customers stay happy and look forward to doing more deals with you.
Do You Need a Mortgage CRM Upgrade?
There's a good chance many of you reading this guide have a CRM system in place already and know what a vital asset it is to your mortgage company. However, is it still complementary to your business goals? Does it allow you to offer consistent customer service to borrowers?
If you've had the same mortgage CRM software in place for some time, it may be appropriate to reassess how it's working for you and consider if it's time for an upgrade. To help you out, here are just a few signs to look for to help you decide if it's time to retire your old system and move up in the world of mortgage CRMs.
You Have an In-house CRM System
It's done its job for years, but it's hard to believe an in-house CRM system can keep up with the more comprehensive and agile options out there created by the experts. You're not a startup anymore, so your CRM system shouldn't be either.
It's Clunky and Requires a Lot of Maintenance
This is common with older CRM software. If you've had it for years and it's still hard to understand or keeps breaking down, and you spend a lot of time and money debugging it, it's probably time for an upgrade. Remember, every time a feature of your CRM system is down, you risk losing leads and customer satisfaction, and all of that adds up to lost revenue.
Your System Is Slow
If your CRM software is slow to complete tasks like pull up data or create a report, it's time to upgrade. We've mentioned several times how speedy communication is valued by loan borrowers, and you don't want them missing important information about their loan because your system can't keep up. The loan process is tortuous as it is; don't slow it down more with bad software.
Integrations Are Unnecessarily Complicated
We already covered how CRM software is most productive when integrated with a great LOS. However, if your existing CRM system is difficult or impossible to integrate with other systems, it isn't serving you well. One sign of this is if integration is a manual process, wasting employees' time. You need something that can keep up with other vital systems, otherwise, it becomes a hindrance.
It No Longer Fits Your Priorities
Every mortgage CRM software and system has its strengths and weaknesses. What has worked well for you in the past may not work as well now as your business grows and the market changes. If your old system isn't helping you meet your goals in how it communicates with customers and collects data, it's time to change.
If you are seeing signs that your mortgage CRM system is no longer working for you and your customers, act quickly. The benefits of a good CRM are too important to let slide. It's easy to trudge along with the old, familiar system, but that puts you on the fast track to becoming outdated and obsolete in your customers' eyes. To keep your competitive edge in the mortgage market, you're going to have to wade out into the sea of modern CRM offerings out there. But don't worry, we are here to help.
How To Determine Which Mortgage CRM is Right For You
Google "mortgage CRM software" and you'll be bombarded with hundreds of results. Scrolling through them can make your eyes glaze over. So how do you choose?
We're here to help. We researched mortgage-specific software across the web and found 6 of the very best solutions out there.
It's critical to select a CRM option that was designed with your business in mind. The perfect CRM solution supports a mortgage company down to the tiniest detail because it was built specifically for the industry.
Essential CRM Features
First, let's review the features any mortgage CRM software must have to be among the best-of-the-best. Here are the absolute deal-breakers. Without these features, a CRM is useless in the mortgage business.
An intuitive format that's useful to busy mortgage professionals

Quick out-of-the-box implementation at a low cost

Easy document management for loan officers

Ability to handle complex contact information management

Relationship management functions for excellent client and partner customer service

Easy real-time task flow that clearly shows your loan pipeline

Lead capturing from Zillow, Trulia, Realtor.com, and other crucial sources

Modern automated marketing and analytics functions, especially in terms of tracking your lead conversion rate

Customizable for your specific company

Scalable and focused on growth

Centralized, cloud-based design

Multi-platform support for texting, mobile, email marketing, and team-based discussion
We really can't over-emphasize the importance of the features on the list above. If just one of these is missing, it will roadblock your mortgage company's path to success.
For example, imagine a CRM that can handle contact management, but can't capture and track leads from Zillow. That's just a big, empty database that's aching for fresh leads from one of the world's biggest websites. You'll have to pay someone to do it all by hand.
Now let's look at 6 of the world's best mortgage CRM solutions. Keep the above list of essential features in mind as you read through them.
6 Best Mortgage CRM Solutions
Here's the thing. We understand that we're not necessarily the best fit for every organization. (We can't be everything for everybody— and trust us, we've tried.) Here are the features that make us great, and, just in case you decide that we're not for you, here are some of the features you can find in other mortgage CRM solutions.
Whiteboard is a young company that made a big splash in the mortgage CRM scene when it became a HousingWire Tech100 Winner. It uses a workflow style called The Mortgage Playbook that's easy and intuitive.
Whiteboard is among the Floify top CRM software solutions due to its integration with Fannie Mae, LendingQB, Zillow, LendingTree, Realtor.com, and other big names in the business. This makes it a lead generation powerhouse for any mortgage company.
Whiteboard's pricing is at $99 per user per month, plus a $399 setup fee, placing it on par with other competitively-priced CRMs. Connect with Whiteboard now to view its innovative mortgage CRM features and/or request a demo.
BN Touch costs $99 per user per month, with price breaks at $79 (2 to 5 users) and $69 (6 to 50 users) depending on your total number of users.
BN Touch is definitely a mortgage-specific CRM that comes with pre-loaded and pre-written content to support a team of busy mortgage professionals. It offers a fairly large library of marketing assets, plus team collaboration and a mobile app.
You might have seen reps from Jungo at one of the big trade shows. Jungo offers what they call a "mortgage ecosystem" that integrates with Salesforce. But that's one of Jungo's main issues: You must have Salesforce to use it.
Pricing is annual at $999 per user per year, which is a big commitment. One of Jungo's strengths is its mortgage-specific co-marketing materials for MLS and realtors. It can handle a large database and all kinds of automated campaigns, including targeted post-close offers.
Jungo has a long learning curve. The average user will probably find it cumbersome, complicated, and lacking in the support they need to understand its functions.
Mortgage IQ made a name for itself in the mortgage industry in the early 90s by focusing on high-quality customer service. Its CRM handles marketing automation easily and streamlines lead management. It goes beyond a basic mortgage CRM into the realms of business planning and strategizing.
You can't fault Mortgage IQ in terms of responsiveness and a customer-first approach. However, its extreme focus on customization makes it less helpful as an out-of-the-box solution.
It has expensive custom price points, too. If you need quick, easily implemented CRM software, Mortgage IQ might not be the best choice.
Working in the mortgage industry, you've probably heard of Top of Mind's SureFire because it's been around for more than a decade. Its main features - like automated campaign management - check the boxes, but SureFire has struggled to offer the modern functionality a mortgage professional needs.
Don't expect to see straight into your pipeline, for example, or pull deep analytics you can use in competitive selling. It doesn't have LOS integration. But it does have alerts, a mobile app, and interactive tools.
SureFire pricing is at $150 per month per user, with a price break at 30 to 140 users, plus a one-time setup fee. That seems geared toward enterprise users and is pretty pricey for a small operation.
Mortgage behemoth Ellie Mae acquired Velocify in 2017. It's a large and intelligent CRM that includes all the basic features you'd expect to see, wrapped up in a slick interface.
If your company has many levels and needs a lot of corporate approvals, Velocify is a good choice. Every message that goes out to clients can be easily reviewed by corporate before triggering.
We have one primary complaint about Velocify, though, and it's a big one: Every price is a custom quote. Velocify does not publish its prices anywhere online, as far as we can tell.
Whatever mortgage CRM software you go with, make sure it checks off every feature we listed above and is tailor-made for the mortgage industry. Do your research to find out what the learning curve for different systems is and how that compares to the time and manpower you can give to adopting a new system.
Most likely you'll want to go with a provider who offers excellent support so you don't waste time on a cumbersome system. Your goal here is to pick a system that you can get up and running and working for you without wasting time better spent growing your business.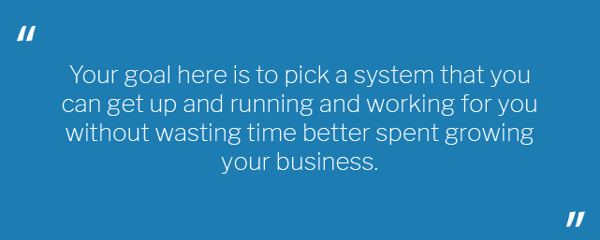 How We Increased Our Mortgage Loan Volume Without Sacrificing Service (Case Study)
You can ramp up your mortgage loan volume without sacrificing productivity or customer service. It happened at Great Western Financial Services in Colin County, Texas, where Tristan Sherrill is the branch manager.
Tristan, who has been recognized as the best mortgage professional in Dallas multiple times, was wrapping up a frustrating year with his company's CRM. Great Western was using a slick, big-name CRM that required an annual contract. Sure, it integrated with their Salesforce program, but it was extremely cumbersome to use.
For example, Tristan couldn't create a special group or subset without needing help from the CRM's tech support. He wasted more than 30 to 45 minutes on the phone reporting issues each time, then waiting for a custom solution from the company.
Whenever his team members used the CRM, it seemed to be more of a distraction than a productivity tool for them. Tristan heard endless complaints from unhappy loan officers. This bled over onto their customer relationships.
This frustration went on, month after month. It interfered with Great Western's customer-first service model. It also irritated Tristan on a personal level. The CRM was throwing up roadblocks to providing great customer service, not to mention costing his branches time and deals.
In fact, Tristan was looking at having to hire someone new to administer his CRM because it was such a headache to manage. That's the route he'd seen other branch managers take, due to the intense time demands of the CRM.
Remembering the "C" in CRM
Tristan knew there had to be a better solution.
A mortgage loan company should be able to expand its client base because of a good CRM, not in spite of it.
The central issue, in Tristan's words, was, "How do you scale your business without diminishing the client experience?" He wanted a way to "wow" his customers with the help of a CRM behind the scenes.
He found the solution in Whiteboard CRM, a young upstart mortgage tool that won the HousingWire Tech100 award in both 2017 and 2018. Tristan chose Whiteboard primarily because a colleague was having great success with it and feeling happy that it offered "mom and pop general store customer service."
---

In a field where many CRMs hide behind faceless international call centers, Whiteboard puts customer service at the forefront. It stood out to Tristan with its personal touch. He felt Whiteboard's vision of client care truly matched his own.

---
Why Whiteboard is Different
Whiteboard is a CRM built specifically for mortgage professionals. It offers all of the basic tools, like automated messaging and marketing personalization, plus a unique Mortgage Playbook format that focuses on generating leads and making more money.
Features of Whiteboard include:
Fast implementation with a Success Coach

Mortgage Playbook that guides the process

Team-based texting

Automatic note adding

Routine loan status updates

Triggered alerts that highlight urgent tasks

Call prompts, including scripts

Calculators for closing costs, interest rates, and other data that helps your customers

Daily task reminders

Ready-made templates with customer-focused language that drives buying behavior

Mortgage application forms and other form groups, set up for easy access

Email and automated marketing

Deep reports and analytics that help with planning

Post-close reminders that reconnect after the sale

Cloud-based interactivity that's accessible and secure

Integration with Zillow, Realtor.com, Fannie Mae, and many other industry sources
Whiteboard was developed after researchers spent 2 years carefully following some of the mortgage industry's top producers. The developers of Whiteboard wondered, "What can we learn from these mortgage superstars?"
They also looked at industry challenges like time pressure, paperwork, changing regulations, repetitive tasks, and missed opportunities. These issues can be a big drag on productivity. They prevent a mortgage loan company from being as profitable as possible.
After all of the research and development that went into Whiteboard, the result is an innovative mortgage management tool that supports the world's most productive loan officers. It keeps their day-to-day workflow efficient. Every action and every decision within Whiteboard always drives toward mortgage loan success.
The Value of Success Coaching
For Tristan's Great Western branches, Whiteboard implementation was quick and painless. He immediately noticed a glaring difference between his previous CRM and Whiteboard: the availability of a Success Coach. This is a unique type of assistance offered only by Whiteboard.
With the old CRM, Tristan had to talk to a different person each time he contacted the company. He was wasting time telling the same story again and again to various people. Sometimes he explained the issue several times, but still got no resolution.
At Whiteboard, Tristan was matched with a single Success Coach who guided the entire onboarding process from start to finish. Tristan and his coach did weekly 30-minute screen shares to see where things stood and address any questions. He quickly felt totally comfortable with Whiteboard.
"As a result, I got up to speed fast and was as proficient as I wanted to be in a month," Tristan said. Whiteboard became his ally in the loan processing experience, rather than an enemy to be overcome.
"Whiteboard saves us a lot of valuable time, specifically with regard to communication and efficiency," Tristan said. "It keeps us on track throughout the transaction, which helps ensure that smooth and stress-free closing experience we strive to create. Plus, it allows us to maintain production levels without needing to spend a lot of time managing activities."
Expanding Loan Volume
Changing to Whiteboard has made a positive financial impact on Tristan's Great Western branches. The proof is right in the bottom line. His loan officers can close more deals every month because they're not wasting valuable time dealing with a stubborn CRM.
With Whiteboard, his employees feel more organized and prepared for every customer interaction. Whenever a question arises, the system is bursting with helpful data. It has helped their customers feel more secure doing business with Great Western.
They're also receiving happy customer referrals, which are happening directly from the prompts generated by Whiteboard. This has expanded the branches' client base.
"Those have definitely helped grow our business," Tristan said. "Several clients have referred new clients to us based on the systems we've put in place through Whiteboard, especially the contact points and the stay in touch aspects."
Automated reminders also extend the customer experience beyond the initial loan. Alerts go out to agents, reminding them to continue connecting with clients long after the closing.
Now it's easier to close a second deal, a third deal, and on and on. It builds Great Western's reach and helps develop strong customer loyalty over the long term.
The Good Kind of Surprises
In business, surprises aren't always a welcome part of the workflow. For Tristan and the crew at Great Western, their old CRM was always full of bad surprises - the kind that cost serious time and money.
"A good CRM shouldn't add to your workload. It should take away from it," Tristan said. "I fell victim to that early on, and found that the shiny objects (the bells and whistles of other CRM products) make nice talking points but the value ends there."
That's why it felt so good to finally be able to consistently rely on Whiteboard to fully support their mortgage business.
Whiteboard rebuilt trust between Great Western branch employees and their CRM. They began to see that it was really supporting their success.
"My biggest surprise with Whiteboard was the playbooks and how much you're given in the beginning," Tristan said. "It's not a blank slate that you have to figure out. It's a system that has really worked for other loan officers, a starting point that you can tweak and make your own. That was a really big help and I think one of the biggest value adds of Whiteboard."
He was also delighted to learn that they could see so much success from something that's essentially an out-of-the-box solution. Customization is always an option, of course, but it's not something required to put Whiteboard to work.
"I would highly recommend Whiteboard to anyone looking for a practical solution to manage their data and scale their business," Tristan said. "It's a great system right out of the box. It has a great user interface and it's easy to master."
Whiteboard: Request a Demo
Is your company a candidate for a fresh CRM? Whether you want to shed your existing CRM or introduce one for the first time, Whiteboard can help you transform your mortgage loan workflow.
Get ready to increase loan volume - fast. Most implementations can happen within days or weeks, minimizing downtime and maximizing your productivity.
To learn more about how it works, take a look at this helpful 7-minute video. At $79 per month per user with a $299 on-boarding fee for an Annual subscription, Whiteboard's pricing is extremely competitive. We can help your mortgage loan company implement a CRM in a budget-friendly way.
Your investment includes migrating your current database and 5 hours of professional services that will quickly get your team up to speed. We'll do whatever it takes to help your company be more productive. Imagine working with a CRM that supports you, rather than working against you.
We'd love to help you see the same kind of success as Tristan and the team at Great Western. To learn more about using a mortgage loan company CRM, connect with Whiteboard today and request a demo.