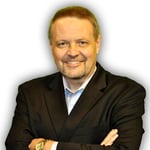 With more than 25 years in the same industry, Mark Zachary could be forgiven if he started feeling career burnout. But he's not there yet. In fact, he's managed to keep things fresh—some of it by design and some of it as a by-product of the business.
"If you've been out of the mortgage business more than 3 or 4 years it's like you've never been in it because it's changed so much, says Zachary. "In reality, I've probably created a whole new career for myself because it's always changing."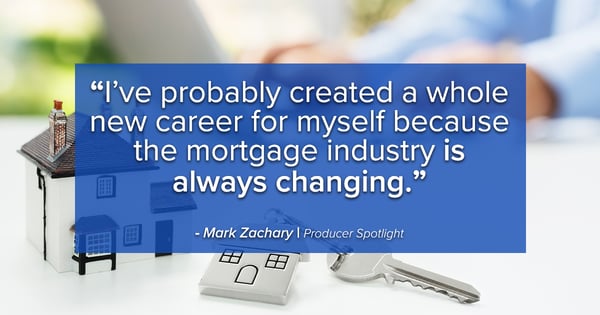 Mark's mortgage career started in the early 1990s after his father-in-law introduced him to a Houston-based mortgage broker. Zachary admits he liked the idea of having more time for his golf game than his previous job allowed. So after a week's training, he was immediately "thrown to the wolves," citing the mayor of Austin as his first loan.
Though Zachary was never "out" of the mortgage business, he held positions—VP of Operations for Pulte Mortgage and Regional VP of Countrywide—that took him away from the day-to-day of originating loans, talking with customers, and cultivating partner relationships. Instead of discussing interest rates he was reviewing P&Ls and managing staff.
He's now come full circle.
Back to His Mortgage Roots
Frustrated, perhaps from working for the large players and seeing an opportunity to provide a more personal loan experience, Zachary opened his own brokerage shop in 2018. He wanted to keep both his business and the loan process as simple as possible.
"As a borrower, you tell your story 3 and 4 times to 3 and 4 different people. It produces a very frustrating process for the borrowers and everybody involved."
Now he gets to work with the people he wants to work with, set his own profit margins, and control the loan process with more attention to detail.
And speaking of detail, he keeps his work week organized by following a schedule of activities where all contacts are categorized. He couldn't do it any other way and be successful.
Designing the Work Week for Max Efficiency
Zachary is a one-man shop, and though he's looking for a loan assistant, he doesn't have one yet. This makes having the right productivity tool in place crucial for managing his busy week.
His investment in a mortgage-specific CRM helps him organize contacts and allows him to automatically send texts and emails for milestone updates among other tasks. Even with all the CRM's reminders and automation, it doesn't hurt that he's good at juggling a lot of balls.
"I like to think I'm a pretty organized guy. I know who I'm going to call now every day, who I'm going to text, who I'm going to email."
So that he's spending the most time on the right contacts, who he connects with and when he connects with them is very specific to ensure he's spending the most time on the right contacts. And because 70% of his business comes from his realtor partners (30% comes from past clients or client referrals), this is who he dedicates the most time to. These contacts are divided into three tiers: partners, prospects, and targets.
Targets are the top producers he's identified who he wants to do business with. Prospects are those he's had a conversation with about working together—they become partners once they send a referral.
Once a prospect becomes a partner, they are segmented into four tiers—platinum, gold, silver, bronze—based on how many deals they refer. For example, platinum partners send him at least 20 deals a year while bronze will send just five.
With the partners classified, he then knows how much attention to give each one. The higher the tier, the more love they will get.
Here is how Mark prioritizes his week:
Mon: Calls partner prospects
Tues: Backlog update calls to buyer's realtor agents and listing agents that are involved in any transactions he has
Wed: Calls past clients
Thurs: Calls customers with their pre-approvals so they can go home shopping
Fri: Marketing activities such as producing videos for identifying targets (more on this below)
In addition, he's also either texting or emailing his top partners—platinum and gold—weekly instead of calling them, knowing they're usually too busy for a call. Same too with the lower-tiered partners, only their contact cadence is monthly.
He likes to save the calls for prospects and targets and uses video as much as possible.
Using Video to Educate and Connect
"I do a lot of Zoom [video] meetings with real estate agents, and we talk like this versus driving 30 or 40 minutes across town to have a 15-minute coffee, drive another 30, 45 minutes back here. No one has time for this."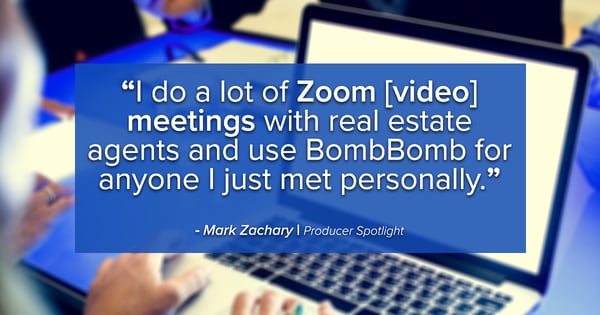 In addition to using videos for meetings, he's also using the medium for marketing. For the last five years, he's been creating videos on the loan process, basic mortgage education, and home buying tips as a way to educate and position himself as an expert.
He's also carried video over to his everyday communication, using the platform BombBomb to record and send short video messages over email.
"I do a video through BombBomb for anyone that I just met personally."
This personal touch goes back to why he started the brokerage in the first place. It's a level of detail usually not found from LOs working at the big banks. And it sets Zachary apart, it's also one of the things he teaches in his classes.
Giving and Getting From Teaching
With a quarter-century of industry experience, Mark Zachary has seen a lot. So he decided to share what he's learned and build his new business at the same time, providing training for real estate brokerages and title companies. Just like with video, he saw this as another way to stand out.
"I wanted to show I was different than any other loan officer that comes in there throwing a rate sheet around, and saying 'hey we can close in 30 days.' We can all do that. If you can't do that you don't even need to be in the game."
What makes his training stand out is the content. It's not mortgage or real estate specific but instead focused on how to grow a business. These are topics such as using video, social media, and other technology areas he calls "legs of a sales stool."
"I go out and train them on adding legs to the sales stool so that when one has slowed down, at least you have those other 3 or 4 things that are producing leads so your business doesn't dry up."
The goal of the training is to generate targets that can turn into partners. And it has been successful so far, with the majority of his 75 partners coming from these monthly classes. Part of this success comes down to positioning.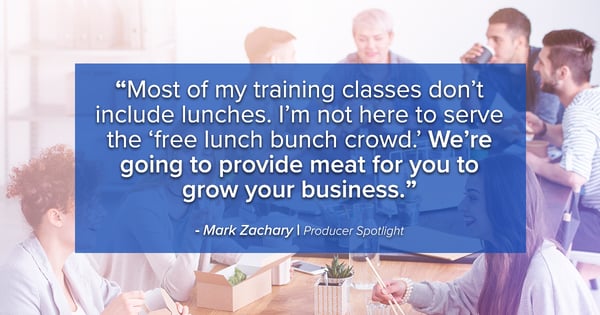 "Most of my trainings don't include lunches. I'm not here to serve the 'free lunch bunch crowd.' We're going to provide meat for you to grow your business. I'm going to let somebody else bring the donuts."
The other aspect that helps is that these aren't continuing education classes (and as a certified instructor with the Texas Real Estate Commission, he could teach CEs) . Those who show up "really want to learn how to do something better" versus those who come just to tick a box. These two combined ensure that he will get at least some attendees who want to be there.
"I don't do as much research on whether or not that office has a bunch of targets, because more than likely they do. It's just ...are they going to show up for the class? And if they show for the class, I get to introduce myself and then have a better opportunity."
After a class, he researches each agent's production and finds those he wants to pursue as a target, adds them to the CRM, and includes them in the weekly call schedule. And as a sort of proof of concept, he also sends everyone a short video thanking them for attending.
Right now, Zachary is conducting monthly trainings, but his goal is to be at two a month by the end of the year. The only thing holding him back is time and once he hires an assistant, that should free him up to do more.
"That's the part of the business I really like doing is the training and the teaching. I would love to get up to once a week if I could."
From broker to vice president, to originator, and now back to broker, Mark Zachary's 25-plus-year mortgage career may have come full circle, but it now has a branch—that of teacher. And it's a role that not only puts leads in the pipeline, but brings him personal satisfaction.