No matter what went right or wrong with your last system, whether it was a spreadsheet or CRM, this time you're determined to get the most from your investment. Pulling the trigger on a new CRM is a big move. Use the steps we've outlined below to see value quickly and set yourself up for long-term success.
Develop an implementation plan
"CRM Implementation Failure" may not be making headlines, but it is more common than you may think. Some sources estimate the failure rate as high as 90%, while a more realistic rate is in the 55%-75% range. In other words, not good. The reasons for failure are many, but some can be avoided before you log your first contact.
Whether you are a solo LO or part of a team using a CRM, you'll want a plan which will help you not only speed up time to value, but also ensure a smooth transition, setting yourself up for long-term success. The plan must include your goals, data migration, a timeline for implementation, basic settings, and third-party app integrations. Most importantly, if you have a team, start by getting buy-in from each of them.
Define your CRM goals
Part of deciding which CRM to purchase and the capabilities you'll need is determining your CRM goals. Once you've defined your first goal, review the features of the CRM (e.g. automated texting) that will help you get there. These are the tactics that help you achieve the goal—there is often overlap with other goals.
Most CRMs contain more features than you will ever use. It's tempting to want to start "doing-it-all-at-once" and use every tool available to get the most from your software.
Resist this urge—at least in the beginning. Instead, make a list of your most important CRM goals, number them, then address them one at a time. This will save yourself the frustration (and wasted time) of not hitting your goals because you were trying to do too much at once.
Your CRM goals will often reflect your business' overall goals. For example, your initial list might look something like this:
Improve the overall customer experience
Increase the efficiency of the sales process
Streamline the loan process
Automate milestone communication with text/email
Create and automate customer email campaigns
Whichever goals you choose, use the SMART framework (Specific, Measurable, Achievable, Relevant, Time-Based) to ensure each one is achievable. If you choose to focus first on the general "streamline the loan process," change it to something like: "Reduce closing time from 28 to 25 days in the 2nd quarter." Here's how the goal is SMART:
Specific: Reduce closing time from 28 to 25 days
Measurable: Can be tracked in the CRM
Achievable: Automated texting and LOS integration streamlines the process
Relevant: This is one of your top business and CRM goals
Time-Based: Achieve in the 2nd quarter
Get team buy-in & feedback
Poor user adoption ranks consistently high for the reasons CRMs fail and has since the first platforms were launched decades ago. One online survey found that "end-user adoption" was a major challenge for 24% of CRM users.
Humans, especially salespeople, are naturally resistant to adopting new things or changing. We get stuck in our routines. But sometimes these routines are actually ruts with lots of excuses for why we can't (or won't) do something. That's why it's important to get buy-in from your team. This starts with answering the big questions:
Why a new CRM?
Why now?
What's getting in their way of being successful?
What big changes would make their jobs easier?
What about the small changes as they relate to technology?
What tools would make selling and servicing customers easier?
Now get feedback on what your team wants from the software.
By talking these through with your team, you're letting them know the change, while not easy, will pay off for them, the company, and your customers. And if you haven't already selected a CRM, you'll know which features your team desires.
Determine which data to migrate
You met Patrick Healy at a fundraiser in 2009, dropped him into your CRM, sent some emails, but other than that, you've had no contact since. It's time to delete him.
Same with any other contacts that are sitting idle. Ideally, you want to do this before you migrate this data from your old system to the new. By scrubbing your old contacts, you'll get a good picture of the types (e.g. contact info, social, interactions) and the structure (e.g. custom fields, attachments) of the data you need to migrate.
When it comes to your Funded data, it's essential that your data is 'clean'. Many new Mortgage CRM users assume they need their past data in their CRM on day one. But ask yourself, what are you going to do with it on day one? If you do need your Funded data in on day one this will push back your time to value, especially if you have to "clean up" and import the data yourself. Your new CRM might have a support team to help you migrate your data, but not all do. Some use proprietary tools that connect with popular CRMs to automate the process, while others use (CSV) Excel files.
The latter method is the simplest but also the most limiting in terms of the type of data you can migrate. However, if neither of the previously mentioned options is ideal, there are 3rd party data migration companies that can assist. Make sure you ask your provider how they handle data migration. Note: Whiteboard includes importing your data in the Set-up/Onboarding fee.
Create a timeline
Your timeline should include the steps involved in your CRM implementation, how long each will take, and when the entire process will be completed. Like any project, consider which steps have dependencies—those tasks that can't be started until another task is completed. For example, you won't want to migrate your contacts until you create any custom fields needed to ensure all data is captured.
A timeline could be as simple as putting dates in your calendar or an Excel spreadsheet and sharing it with your team so everyone knows what's required of them and when. There are also lots choices for free project management software available, if you want to get more sophisticated.
For those using a CRM with onboarding and coaching consultation, most of this will be scheduled and even done for you. Either way, take this step seriously as it will help you "go live" on your terms and help you realize value faster.
With a typical CRM, where you have to do the set-up yourself; clean and import your data, create the forms, determine the workflow, and write all of the emails, you can expect to take between 60-90 days.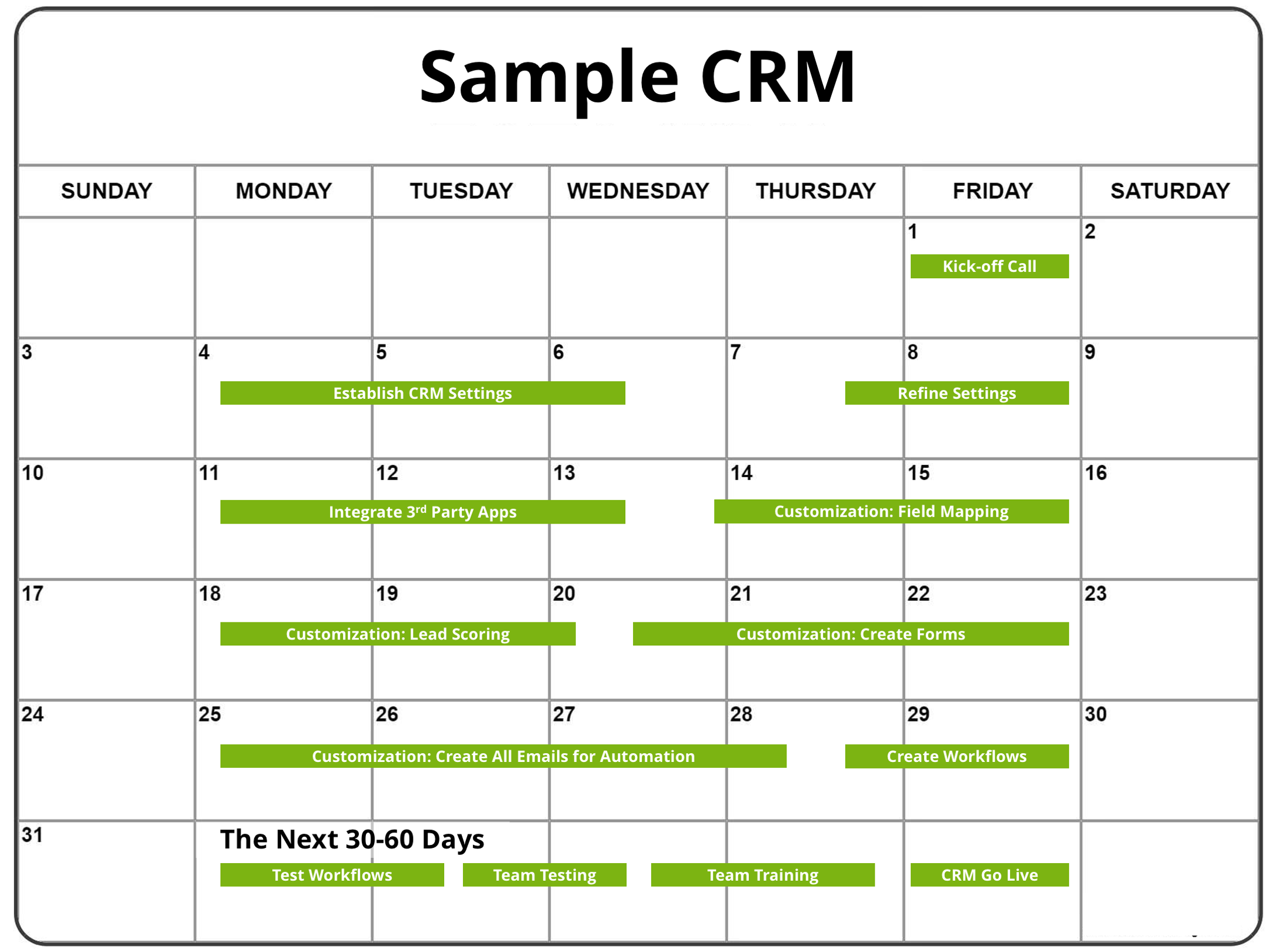 Set up core CRM settings
As you start to get more hands-on with your software, but before you go "live", you'll want to get some of the core features set up. Don't worry about trying to turn on every bell, whistle, or doodad. Focus on the essentials. If your provider has onboarding, a rep will walk you through these initial settings. If not, the software typically has a checklist on the homepage of your CRM suggesting steps to take. We'll look at a few common features to get started.
Milestones, Pipelines, Texting, Automations & Permissions
Mortgage CRMs provide pre-built features LOs regularly use but most also allow customization based on specific needs. For example, pre-built features include milestone updates that automatically text and/or email customers and partners about the loan status such as "appraisal ordered" and "loan is approved."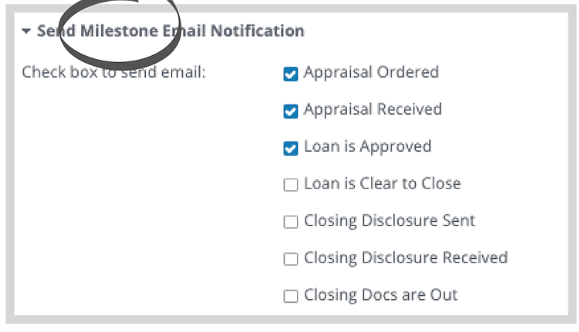 Other built-in features you may find are LO pipeline sequences such as lead, prospect, pre-qualify, application, and funded. You should be able to customize the pre-built steps according to your sales process. The better CRMs have texting capability included (or as an optional feature) so you can text to send updates, reminders, and have conversations with both borrowers and partners—conversations that become part of a customer's record.
Don't forget automation such as meeting schedulers, reminders, and lead follow up to help keep daily tasks from falling through the cracks. Set up your permissions, which are the security settings for individuals on your team, include things like viewing/changing contact records, pipeline deal access, records deletion, and reports access. Note: at Whiteboard, the Mortgage Playbook™ automatically configures these settings based on best-practices and then, very rarely, need to be personalized.
As you set these features up, test each one before moving on to the next. Use your staff as test contacts. This does two things: 1) ensures the feature is working and 2) gives you and your team a hands-on understanding of how the individual features work as part of the whole CRM.
Integrate third-party apps
Getting all your software—LOS, email, social media, live chat, lead sources—to work with your CRM means integration. Mortgage-specific CRMs provide some native connections with a selection of third-party apps, which means they've developed internal, built-in integrations.
Companies like Zapier provide another option for collecting data from an app to your CRM, though its capabilities are usually less sophisticated than a native app. Finally, application programming interfaces, also known as APIs, are another means of connecting one software with another but require technical expertise to set up.
Test and train
If you've been testing each feature as you go, you're ahead of the game. If not, you'll want to test each one individually and then try to complete an entire loan transaction from start to finish. Use team members as example customers and run through each stage of the loan process. In particular, look at these items during the process:
Data: Check the integrity of the data (e.g. contacts) you have migrated and any example contacts you've created. Is the correct info going into the correct fields? Any duplicates?
Pipelines: Do your different pipelines (e.g. purchase vs. refi) contain the right stages?
Texting/Email: Are your texts and emails going out when they should? Do they contain the correct messages?
Integrations: Check all functionality with apps/programs such as your LOS, email, social media, live chat, marketing, and any other integrated products.
Automations: Do calendar scheduling, web forms, lead routing, and other automated functions work properly? Test each one.
If you involve your team in testing you are giving them hands-on training. But you'll still want to set up formal training with your CRM vendor, ideally, before you go live. Then plan continuous training every few months or as needed. On-going training is important to keep your team efficient and happy (remember the stat about the challenge of user adoption).
Oh, the places your CRM can take you!
CRMs come in many flavors depending on your goals, industry, and capabilities. From the very basic sales-only systems to the powerful all-in-ones used for sales, marketing, customer service, and even project management.
Then there are those that fall in between—the specialists. These are designed for specific industries with features that typically only folks in those industries need. B2Bs, B2Cs, auto dealers, eCommerce, construction, healthcare, insurance, call centers, startups, real estate, mortgage lenders. Whatever business you're in, there's likely a CRM designed with the features you need to be more sales and service efficient.
For example, Whiteboard was built with the mortgage loan officer in mind.
How Whiteboard Mortgage CRM accelerates time to value
Your business can't stop just because you switch to new software. Even with a solid implementation plan, you're still likely to experience hiccups along the way, especially when doing it yourself. Having a dedicated onboarding and training team, if your CRM provides one, can help you get set up quickly and improves your time to value.
At Whiteboard, we know if you adopt our platform and learn to use it, you'll have the greatest chance of success. That's why we invest time in our clients with onboarding, coaching, and ongoing support. In addition, our Mortgage Playbook™ provides over 100 pre-built marketing campaigns, content for the loan process, and other events throughout the customer lifecycle. Built-in automation particularly for texting make staying in touch with borrowers and partners simple. All of this helps you accelerate the time to see value in your CRM.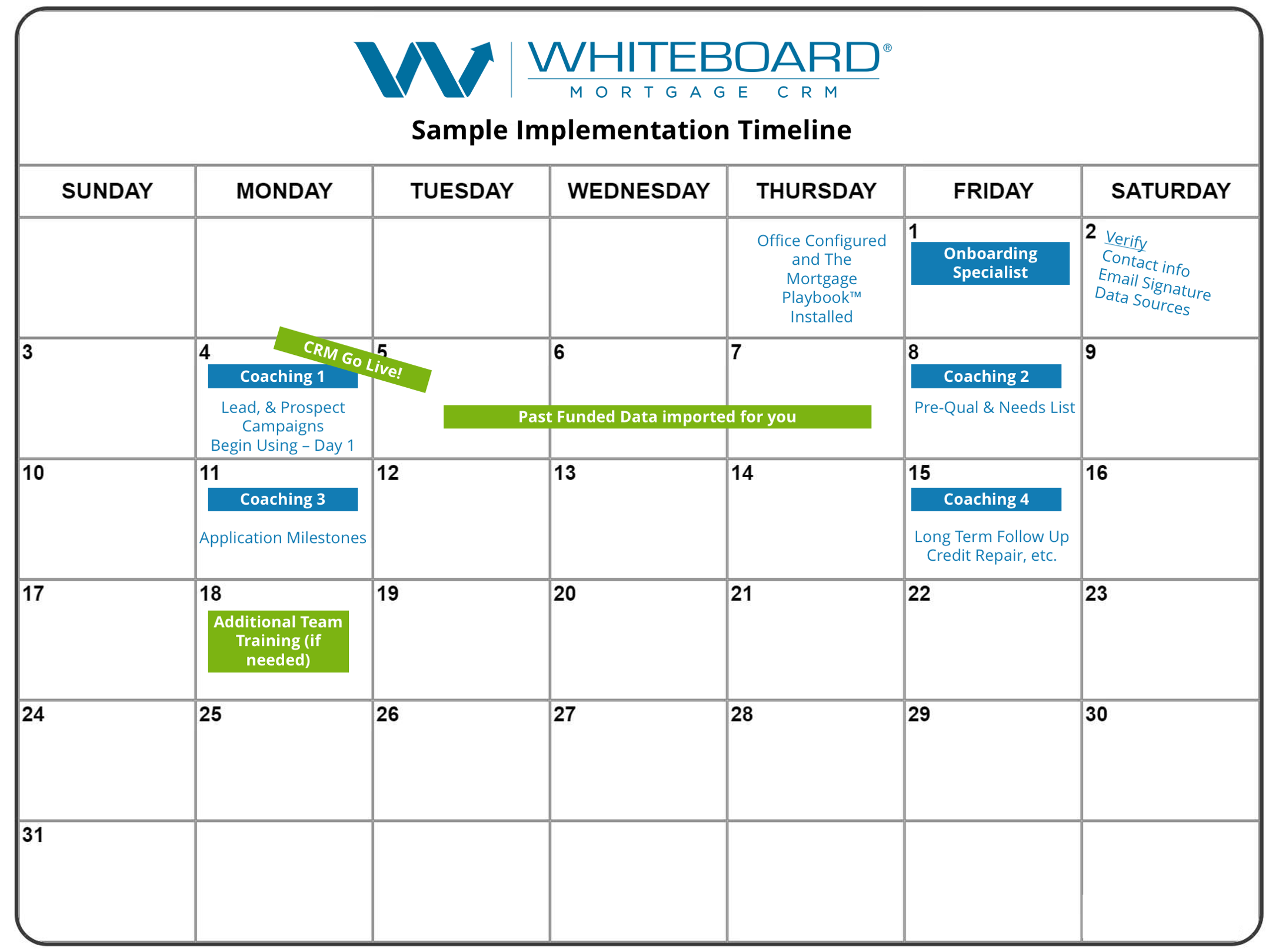 Onboarding, Coaching & Support
We consider our CRM your investment and want you to see a return on it. That's why we invest in both our technology and our customer-facing team. The key to your success is that the CRM is working for you and helping you achieve your goals. To do that, we help provide a solid foundation out-of-the-gate with our Customer Success team.
We start with Onboarding, which we ensure your data is imported, pipeline is set up, and Whiteboard to talk to other third-party tools such as your LOS. Onboarding ideally takes 1-3 days. What can elongate that time is your data imports and LOS integrations. However, in our Onboarding process we don't wait for those to be complete before you can go live. As soon as you can enter a lead/prospect or point them to an online 1003—you can go live!
Coaching sessions last 4-5 sessions depending on our clients' schedules. The goal in the first call is to identify an immediate "win" we can get for you. For example, turning on milestone campaigns because they have immediate texting. Borrowers and partners love getting texts for updates because it's the fastest and most preferred way to receive updates.
Support is on-going for both technical issues and one-off functionality assistance that may come up. Functionality takes many forms but a common one is identifying a particular group of borrowers, creating a list and campaign, and activating it.

The Mortgage Playbook™
One time-consuming aspect of setting up a CRM is creating content for automation such as lead generating email campaigns, milestone updates, and the daily communication used for running a mortgage office. The Mortgage Playbook™ lets you hit the ground running with these pre-built materials and others such as call scripts, templates, customer events like birthdays, and even automated daily tasks.
If you're particular about the messages you send, you can also customize anything in the Playbook™—milestone texts, marketing campaigns, templates, etc.. The most important thing is that you use these functions because they help drive customer success.
Texting: No one falls through the cracks
If you've used texting for your business in the past, you know how much your customers and partners love it. Texting is one of the best things you can do to improve communication and service because nearly all Americans text at least once a day and 90% of texts are read within the first three seconds.
Whiteboard's built-in texting platform lets you send texts whether you're on your computer or phone making it a "living and breathing thing," according to Whiteboard Success Coach, Levi Lawson. All the text conversations are recorded so your team—if they need to engage—has the context. Texting has practical utility and can also help grow your business.
When rates dropped last year, Whiteboard customer Matt Brown quickly identified a list of 489 people he wanted to target for a refinance campaign based on their interest rates and funded date. He created a quick text:
"We worked with you on your home loan. Have you considered refinancing to lower payments?"
In seconds, nearly 500 people received his text.
Within the first day, eight people replied back with some variation of "I was just thinking about that. Let's talk!"
By the end of the week, Matt received 12 applications, all by sending one text from his CRM. One text, sent one time—that's ROI.
With texting, the communication cracks are eliminated and opportunities are exploited.
Using your CRM to close business
It's ultimately you and your team who make things happen, but your CRM can be your biggest ally for communicating while staying on top of sales and service. When switching from one software to another, stick to an implementation plan like we've outlined above to reduce your headaches and the time it takes to realize value.
If you have a mortgage-specific CRM like Whiteboard, take advantage of the resources available such as onboarding/coaching, LOS integration, and the Mortgage Playbook™ pre-built campaigns that will help you hit the ground running faster with less effort.