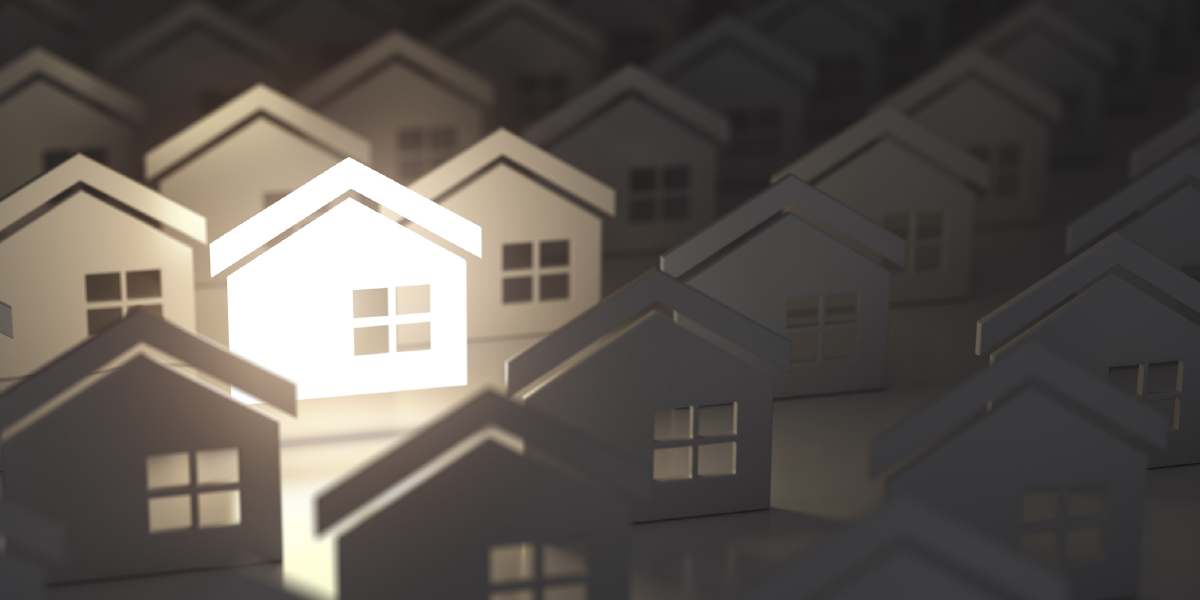 You can ramp up your mortgage loan volume without sacrificing productivity or customer service. It happened at Great Western Financial Services in Colin County, Texas, where Tristan Sherrill is the branch manager.
---

"I would highly recommend Whiteboard to anyone looking for a practical solution to manage their data and scale their business. It's a great system right out of the box." - Tristan Sherrill

---

Tristan, who has been recognized as the best mortgage professional in Dallas multiple times, was wrapping up a frustrating year with his company's CRM. Great Western was using a slick, big-name CRM that required an annual contract. Sure, it integrated with their Salesforce program, but it was extremely cumbersome to use.
For example, Tristan couldn't create a special group or subset without needing help from the CRM's tech support. He wasted more than 30 to 45 minutes on the phone reporting issues each time, then waiting for a custom solution from the company.
Whenever his team members used the CRM, it seemed to be more of a distraction than a productivity tool for them. Tristan heard endless complaints from unhappy loan officers. This bled over onto their customer relationships.
This frustration went on, month after month. It interfered with Great Western's customer-first service model. It also irritated Tristan on a personal level. The CRM was throwing up roadblocks to providing great customer service, not to mention costing his branches time and deals.
In fact, Tristan was looking at having to hire someone new to administer his CRM because it was such a headache to manage. That's the route he'd seen other branch managers take, due to the intense time demands of the CRM.
Remembering the "C" in CRM
Tristan knew there had to be a better solution.
---

A mortgage loan company should be able to expand its client base because of a good CRM, not in spite of it.

---
The central issue, in Tristan's words, was, "How do you scale your business without diminishing the client experience?" He wanted a way to "wow" his customers with the help of a CRM behind the scenes.
He found the solution in Whiteboard CRM, a young upstart mortgage tool that won the HousingWire Tech100 award in both 2017 and 2018. Tristan chose Whiteboard primarily because a colleague was having great success with it and feeling happy that it offered "mom and pop general store customer service."
In a field where many CRMs hide behind faceless international call centers, Whiteboard puts customer service at the forefront. It stood out to Tristan with its personal touch. He felt Whiteboard's vision of client care truly matched his own.
Why Whiteboard is Different
Whiteboard is a CRM built specifically for mortgage professionals. It offers all of the basic tools, like automated messaging and marketing personalization, plus a unique Mortgage Playbook format that focuses on generating leads and making more money.
Features of Whiteboard include:
Fast implementation with a Success Coach
Mortgage Playbook that guides the process
Team-based texting
Automatic note adding
Routine loan status updates
Triggered alerts that highlight urgent tasks
Call prompts, including scripts
Calculators for closing costs, interest rates, and other data that helps your customers
Daily task reminders
Ready-made templates with customer-focused language that drives buying behavior
Mortgage application forms and other form groups, set up for easy access
Email and automated marketing
Deep reports and analytics that help with planning
Post-close reminders that reconnect after the sale
Cloud-based interactivity that's accessible and secure
Integration with Zillow, Realtor.com, Fannie Mae, and many other industry sources
Whiteboard was developed after researchers spent 2 years carefully following some of the mortgage industry's top producers. The developers of Whiteboard wondered, "What can we learn from these mortgage superstars?"
They also looked at industry challenges like time pressure, paperwork, changing regulations, repetitive tasks, and missed opportunities. These issues can be a big drag on productivity. They prevent a mortgage loan company from being as profitable as possible.
After all of the research and development that went into Whiteboard, the result is an innovative mortgage management tool that supports the world's most productive loan officers. It keeps their day-to-day workflow efficient. Every action and every decision within Whiteboard always drives toward mortgage loan success.
The Value of Success Coaching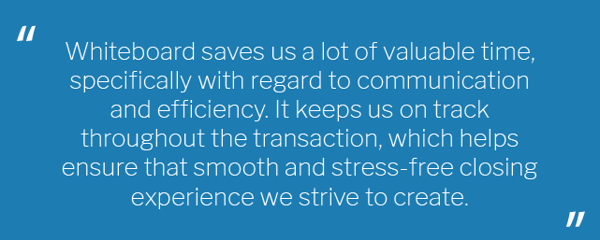 For Tristan's Great Western branches, Whiteboard implementation was quick and painless. He immediately noticed a glaring difference between his previous CRM and Whiteboard: the availability of a Success Coach. This is a unique type of assistance offered only by Whiteboard.
With the old CRM, Tristan had to talk to a different person each time he contacted the company. He was wasting time telling the same story again and again to various people. Sometimes he explained the issue several times, but still got no resolution.
At Whiteboard, Tristan was matched with a single Success Coach who guided the entire on-boarding process from start to finish. Tristan and his coach did weekly 30-minute screen shares to see where things stood and address any questions. He quickly felt totally comfortable with Whiteboard.
"As a result, I got up to speed fast and was as proficient as I wanted to be in a month," Tristan said. Whiteboard became his ally in the loan processing experience, rather than an enemy to be overcome.
"Whiteboard saves us a lot of valuable time, specifically with regard to communication and efficiency," Tristan said. "It keeps us on track throughout the transaction, which helps ensure that smooth and stress-free closing experience we strive to create. Plus, it allows us to
maintain production levels without needing to spend a lot of time managing activities."
Expanding Loan Volume
Changing to Whiteboard has made a positive financial impact on Tristan's Great Western branches. The proof is right in the bottom line. His loan officers can close more deals every month because they're not wasting valuable time dealing with a stubborn CRM.
With Whiteboard, his employees feel more organized and prepared for every customer interaction. Whenever a question arises, the system is bursting with helpful data. It has helped their customers feel more secure doing business with Great Western.
They're also receiving happy customer referrals, which are happening directly from the prompts generated by Whiteboard. This has expanded the branches' client base.
"Those have definitely helped grow our business," Tristan said. "Several clients have referred new clients to us based on the systems we've put in place through Whiteboard, especially the contact points and the stay in touch aspects."
Automated reminders also extend the customer experience beyond the initial loan. Alerts go out to agents, reminding them to continue connecting with clients long after the closing.
Now it's easier to close a second deal, a third deal, and on and on. It builds Great Western's reach and helps develop strong customer loyalty over the long term.
The Good Kind of Surprises
In business, surprises aren't always a welcome part of the workflow. For Tristan and the crew at Great Western, their old CRM was always full of bad surprises - the kind that cost serious time and money.
"A good CRM shouldn't add to your workload. It should take away from it," Tristan said. "I fell victim to that early on, and found that the shiny objects (the bells and whistles of other CRM products) make nice talking points but the value ends there."
That's why it felt so good to finally be able to consistently rely on Whiteboard to fully support their mortgage business.
---

Whiteboard rebuilt trust between Great Western branch employees and their CRM. They began to see that it was really supporting their success.

---
"My biggest surprise with Whiteboard was the playbooks and how much you're given in the beginning," Tristan said. "It's not a blank slate that you have to figure out. It's a system that has really worked for other loan officers, a starting point that you can tweak and make your own. That was a really big help and I think one of the biggest value adds of Whiteboard."
He was also delighted to learn that they could see so much success from something that's essentially an out-of-the-box solution. Customization is always an option, of course, but it's not something required to put Whiteboard to work.
"I would highly recommend Whiteboard to anyone looking for a practical solution to manage their data and scale their business," Tristan said. "It's a great system right out of the box. It has a great user interface and it's easy to master."
Whiteboard: Request a Demo
Is your company a candidate for a fresh CRM? Whether you want to shed your existing CRM or introduce one for the first time, Whiteboard can help you transform your mortgage loan workflow.
Get ready to increase loan volume - fast. Most implementations can happen within days or weeks, minimizing downtime and maximizing your productivity.
To learn more about how it works, take a look at this helpful 7-minute video. At $79 per month per user with a $299 on-boarding fee for an Annual subscription, Whiteboard's pricing is extremely competitive. We can help your mortgage loan company implement a CRM in a budget-friendly way.
Your investment includes migrating your current database and 5 hours of professional services that will quickly get your team up to speed. We'll do whatever it takes to help your company be more productive. Imagine working with a CRM that supports you, rather than working against you.
We'd love to help you see the same kind of success as Tristan and the team at Great Western. To learn more about using a mortgage loan company CRM, connect with Whiteboard today and request a demo.