What motivates your team to show up on a Saturday when it's not required? Florida Loan Officer Isabel Williams shares how staying true to her mission of "helping people of color increase ownership inside of my community" motivates her partners and processors to be all the way bought in. Listen to why Isabel isn't pursuing re-fi business and how rescuing deals has become what she was meant to do.
"It's about helping people who had been turned down. Taking them from crying about losing their house to crying about getting into their new home."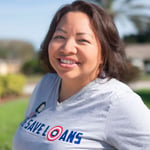 Not everyone can say their work is their life's calling. Isabel Williams can and does. She even remembers the moment it hit her. One day a pregnant mom of three walked into her office. She had already been turned down for a mortgage loan.
"She was weeping because she was emotional," Wiliams said. "I held her hand and cried with her. I told her, even if you don't buy this home, we're gonna get you on a plan to buy a house."
When they wrapped up the meeting, the mom hugged Williams, walked out of the office, and said, "I'm scared, but not as scared as I was." This moment sunk in deep for Williams, but the epiphany was still to come.
After the loan closed, the proud new homeowner came back and told Williams: "You are a godsend to me." From that point on, she said, "This is it. This is what I was meant to do. This is my life's purpose."
On Refinancing: No Thanks
If her business name, We Save Loans, and job title, "Chief Mortgage Hero", aren't big enough hints, Williams specializes in rescuing deals turned down by other lenders. She literally becomes a hero to many of her clients who are pursuing the American Dream of homeownership. More specifically, her mission is to increase ownership for people of color.
When we say mission, we mean her one and only focus to the exclusion of what's hot in the market at any given time.
"I'm actually rejecting the refi boom. I want to hold true to what my purpose is," Williams said.
To her, refinancing, though potentially lucrative, is a distraction from her purpose. It would mean spending less time on homeownership opportunities for people in her community. And it's why she and her team are not calling any past clients.
"Once you make the decision that you're not going to deter from your mission, it makes it a lot easier," she said.
On Work-Life Balance
Williams cautions that being the lender of last resort isn't for everybody because it's "gritty and grimy." Serving this market is heavy on a number of levels. People who have already been turned down several times are more likely to be emotionally exhausted by the time they visit Williams. And as an LO, you can't help feeling this because you want to be the hero, which only adds to the pressure.
Keeping the focus on homeownership has helped Williams deal with the inevitable stressors that come with the territory.
"We like to go really deep with our clients and not being sidetracked by what everyone is doing. Everyone is losing their minds on [refinances]," she said. "I still want to have quality of life. I don't want to be a prisoner to my job."
Another reason Williams is able to keep a work-life balance is because of technology.
On Finding the Right CRM
She tried dozens of CRMs including Whiteboard looking for just the right fit. Whiteboard eventually followed up saying they were adding new features so she decided to give them another shot—and was immediately impressed.
"You are my Godsend! You have built-in automated text responses with emojis that are so authentic. People really feel like they are talking to me even though we've never met," she said.
Williams went from having no CRM to having a 2,000-person database. And it has allowed her to "catapult" follow up and stay top of mind with her customers.
She is also part of testing Whiteboard's forthcoming Spanish language campaigns, which comes at an opportune time for both. According to a report from the National Association of Hispanic Real Estate Professionals, from 2008-2018, Hispanics were responsible for 62 percent of U.S. net homeownership. Half of her business is made up of Spanish speakers.
On the Mission and the Team
Williams knows that money is only a short-term motivator and chasing after it will only lead to burn out. We Save Loans is the rare company where team members are all invested in the mission. And having a mission that the entire team lives first ensures that success will follow.
"My partners and processors are bought in. It's not just a job. They will come to work on weekends not because I pay them extra. They choose to be here because they know it's this huge thing we're trying to accomplish," Williams said.