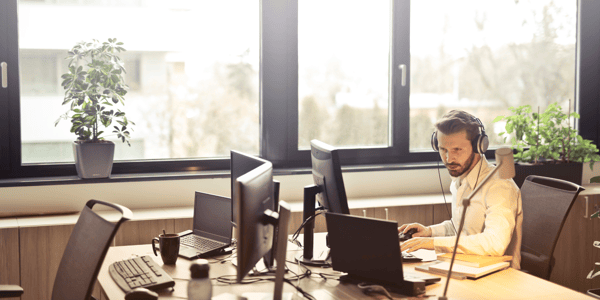 Mortgage leads are the bread and butter of the home loan industry, and as you know most offices depend on some sort of system to track them.
But WAIT! Are spreadsheets robust enough to manage this important function? is CRM software a must? Is a mortgage CRM preferable to a general CRM?
Here's everything you need to know about the best way to track your mortgage leads.

Tools To Manage Your Leads
Let's take a look at some of the more common tools lenders use to manage their mortgage leads
Microsoft Excel, AirTable, Google Sheets & other Spreadsheets
This is the most basic method for tracking leads— and the one that leaves the most room for confusion and error.
Spreadsheet systems don't offer a streamlined way to automate prompts and reminders, reduce user error or save your team time spent manually emailing back and forth with clients.
And the fact you can't easily integrate a spreadsheet program with your LOS (and why would you want to go to the trouble?) translates to huge duplication of effort and reduced efficiency.
Loan Origination Software
Lot's of lenders do use their LOS like a CRM platform.
---

But the question is, should they?

The short answer is no.

---
While LOS systems are excellent for managing the loan process itself— from document management to underwriting and compliance functions— they just aren't designed to replace a CRM platform. Rather, they serve as a mortgage lender's "back office" and don't generally focus on fostering and maintaining leads or growing the business.
General Purpose CRM Software
Certainly, a general purpose CRM system is preferable to LOS or spreadsheet programs for tracking mortgage leads. But are they ideal for mortgage lenders?
Most general-purpose CRM's offer standard contact management capabilities, mobile compatibility, analytics, and some customization options.
But they don't offer features specific to each step of the mortgage process, and they aren't tailored to fit mortgage terminology. And they don't generally integrate with LOS systems or mortgage-specific lead sources.
Specialized Mortgage CRM Software
Mortgage-Specific software offers all the standard features of a CRM, but it is designed specifically with mortgage lenders in mind, complete with industry-specific templates, reporting capabilities and forms.
Some mortgage CRM software integrates in real time with your loan origination software, and automatically sends a message with each milestone, so your team can follow up with the right message at the right time. Whiteboard Mortgage CRM integrates with Calyx and Encompass. We're working on new LOS integrations every day.
For example, loan officers can automatically confirm receipt of an application and educate their client about next steps with ready-made templates. Borrowers receive specialized attention every step of the way, and your team's workflow remains efficient. Whiteboard Mortgage CRM makes this easy with The Mortgage Playbook™, a collection of 125+ ready-to -send campaigns of emails and text messages.
Perhaps one of the most attractive features of a specialized mortgage CRM software is that it integrates with high-quality lead generation companies like Zillow, Realtor.com, and BoomTownROI to help grow your potential client base.
From Mortgage Lead to Funded with Whiteboard Mortgage CRM
Every mortgage loan sales pipeline starts with a high-quality lead which is then converted to a prospect who prequalifies, submits an application and ultimately receives funding.
To state the obvious: no lead, no deal. Which is why it's so important to track those leads using current, reliable data.
Let's take a brief look at the basic components of the mortgage qualification process Whiteboard mortgage CRM uses and why it's important to track leads for each.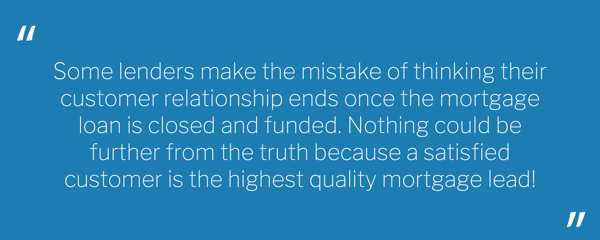 Lead and Pre-Qual
This is when mortgage brokers and loan originators have a chance to shine. At this critical stage, it's vital to maintain consistent contact with a client throughout the process to demonstrate the lender's dedication and professionalism.
Application and In-Process
As any borrower knows, the list of documents that must be submitted before a mortgage originator can make a credit assessment is a long one. So it's crucial at this stage to keep the client and referral partners informed through the various loan milestones.
Loan Approval and Post-Funded
Some lenders make the mistake of thinking their customer relationship ends once the mortgage loan is closed and funded. Nothing could be further from the truth because a satisfied customer is the highest quality mortgage lead!
In fact, it's even more vital that a mortgage originator remain in contact with a customer at this stage to encourage future referrals and warm reception to refinancing marketing campaigns.
Following Up With Your Mortgage Leads
Since excellent CRM requires so many touch points, it can be daunting for team members to keep track of them all. But losing track of even one lead is a lost opportunity. That's why we think a mortgage industry specific CRM is the answer.
If you're ready to learn more about how specialized mortgage CRM software can help you effectively and efficiently track your leads, we'd love to talk! Shouldn't a great mortgage CRM system help create outstanding customer service experiences and grow your business?
Specialized mortgage CRM software helps you manage every step of the mortgage process, increasing your efficiency and reducing costs while growing your business. If you are ready to get started, let's talk.